Champions League Final: Bayern Munich vs PSG Betting Tips, Odds, Predictions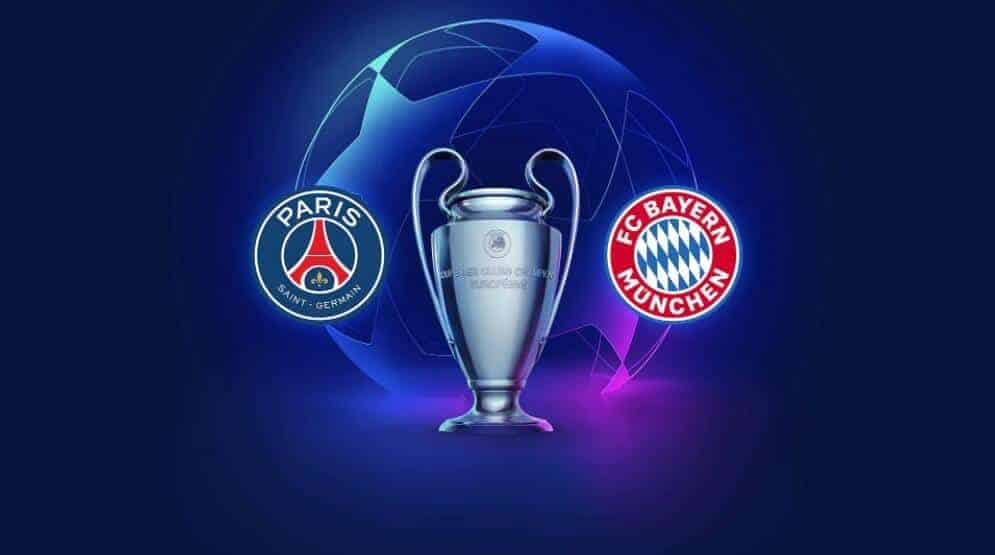 The final of the 2019-20 Champions League will feature the German champions Bayern Munich lock horns with the French giants Paris Saint-Germain.
The match will take place in the Estadio da Luz in Lisbon on Sunday, August 23. The match is set to start at 20:00 hours BST (12:30 am IST).
Get the latest Bayern Munich vs Paris Saint-Germain betting tips with match odds, preview, and predictions.
With that, also check out our Champions League betting tips that may not have anything to do with the actual end result.
Best betting sites for the Champions League final
Bayern Munich vs PSG betting tips and predictions
This is going to be the biggest game of the football season and undoubtedly, our tips will be in line with all the hype.
After all, this match is nothing short of a World Cup final between France and Germany.
To make the most of it, we recommend you partner up with a couple of online Indian betting sites at the very least to ensure that you make profits and enjoy good depth of odds.
Alright, let's have a look at our Champions League final betting tips and the site with the best odds!
| Bet | Odds | Why is this a good bet? | Site |
| --- | --- | --- | --- |
| Back Bayern to win and both teams to score | 3.0 | Given the recent form of Bayern Munich, it is hard to imagine PSG sailing to a big win here. However, we believe that the French champions can make life a bit difficult for them by scoring an odd goal or two. Expect Munich to continue with their menacing form and ultimately lift the trophy. However, the chances of them doing so with a clean sheet are less. | Betway |
| Over 3.5 goals in the match | 1.95 | Bayern Munich have scored 15 goals in their last 3 Champions League games while PSG are at 7 for the same number of games. Chances are, this game will be along the same lines with plenty of goals in the making. Smart money would be to back over 3.5 goals scored in this entire game. | 10CRIC |
Other bets to consider:
It's the Champions League final – why stop at the general markets? Let's go the extra mile here with our so-called 'crazy bets,' courtesy of our other betting site partners.
We are not asking you to bet mad money, but the payouts on these markets are certainly worth a thought.
| Bet | Odds | Why is this a good bet? | Site |
| --- | --- | --- | --- |
| 2-way Asian Handicap, Bayern Munich (-0.75) | 2.20 | If there is one thing we have seen from Bayern Munich this season, it's their ability to score goals and win with a convincing margin. Whether it's their 3-0 win over Lyon or the 8-2 spanking they handed to FC Barcelona, they have been absolutely superior. Even in this final game of the European Cup, we can expect them to win with a similar margin. Hence, our recommendation to give the Germans a handicap of -0.75. | LeoVegas |
| Serge Gnarby to be anytime goalscorer | 2.50 | With a brace against Lyon and an assist and a goal against Barcelona, the 25-year-old German has been in the form of his life. He has been nothing but impressive throughout the competition and it wouldn't be surprising if we see him find the net again on the big night on Sunday. | Royal Panda |
Match facts
Let's discuss some of the most important top-line stats and facts ahead of this big game.
Bayern Munich are unbeaten in the Champions League this season.
The Germans have scored 21 goals in their last 5 matches in the competition while conceding only 4. One of those goals conceded was an own goal.
As for the Parisians, they have won 8 of their last 10 matches in the European Cup.
In terms of their goal-scoring run, PSG have scored at least 2 goals in 5 of their last 6 matches in the league.
This is PSG's maiden appearance in the final of this tournament; by the same ticket, Bayern Munich are gunning for their 6th Champions League trophy.
Bayern Munich vs PSG Head to Head
PSG and Bayern Munich have locked horns 5 times since 2000. Munich have won on 3 occasions while PSG bagging the win on 2.
4 of those matches came in the Champions League, with their most recent tryst taking place in the 2017-18 group stage.
Munich won the home leg with 3-1 while losing the away leg in Paris with 3-0.
Since then, they have met just once – in the 2018 International Champions Cup friendlies, where Munich hammered the Parisians with 3-1.
Bayern Munich's recent form
Die Roten are just 1 win away from achieving their second treble of the decade.
With Bundesliga won and secured weeks ago, they moved their focus to the DFB Pokal cup against Bayer Leverkusen, which they won with 4-2.
The league title and domestic cup now won, Bayern just need to win the Champions League and become the masters of Europe again.
In all fairness, their chances to achieve this feat have never looked better before.
Case in point, their recent hammering of Barcelona in the quarterfinal with 8-2.
Call it shoddy performance from the Catalans or an impeccable display of masterclass from the Bavarians, it was a match that truly put them in the European spotlight.
The strikers and wingers wreaked havoc with Philippe Coutinho, Gnarby, Thomas Muller, and Robert Lewandowski finding their names on the scoresheet.
A similar, albeit scaled-down performance, was also seen against Lyon where they humbled the French with 3-0.
Joshua Kimmich gave two assists while Gnarby and Lewandowski took the team to the final.
It was also a game that showed that the Germans are not entirely untouchable.
Their style of football has also taken a new shape under Hans-Dieter Flick.
In his first year as the manager, he has transformed the side into a goal-scoring, attacking side with an emphasis on winning the ball back quickly.
The squad is young, full of energy, rhythm, and confidence.
In the Bundesliga, they won the title with a margin of 13 points and 100 goals, while conceding only 32 goals in the entire campaign.
In other words, they were the strongest side in terms of defence and attack – talk about a champions' performance!
PSG's recent form
Admittedly, when the Champions League resumed, PSG's chances weren't that great.
With Ligue 1 effectively scrapped at the start of the pandemic, the Parisians soon found themselves in a world without professional football.
They had to make do with the club friendlies which, by all means, isn't a true test for a side like Paris Saint-Germain.
In late July, they had their first professional engagement in the form of 2 domestic cup finals against Lyon and St. Etienne.
With scores of 1-0 and 0-0 (6-5 on penalties) respectively, they won the cup but not convincingly.
Their first big test came against Atalanta FC in the quarterfinal, that they won with 2-1.
Then, they faced the rising Germans RB Leipzig and defeated them with 3-0.
This was the first time that we got to see a PSG that truly lives up to its reputation.
Angel di Maria put up a stellar performance with 2 assists and a goal while Neymar did his thing too.
Call it nerves from the Saxony outfit, who were competing in the biggest match of their 11-year history, or PSG just finding their stride again, they got the task done and reached the final.
However, PSG now find themselves facing a big riddle to solve.
They face a team that is truly a giant in every sense of the word.
That said, things are not that bad in the Paris camp.
The French champions can rely on Neymar, Kylian Mbappe, and Di Maria – all of whom are bustling with experience and sheer skills, eager to win the title.
Marco Verratti is also back while Thiago Silva – the veteran PSG defender, is set to compete in his last match for the French side.
Where to bet on Bayern Munich v PSG
Bayern Munich look primed to win with odds in their favour but PSG can definitely cause some problems for the German outfit.
There is an abundance of talent on both sides – ultimately, it will come down to keeping the nerves under control and putting early pressure.
This match is for the history books, folks.
Make sure to place your bets in time for this Sunday's blockbuster Champions League final tie!