World No. 1 Novak Djokovic will go head to head with the Russian prodigy Daniil Medvedev in the final of the Australian Open 2021 on Sunday, February 21.
The match is scheduled for a 2:00 pm IST start in Melbourne.
Get Novak Djokovic vs Daniil Medvedev Australian Open betting tips and match odds.
Want daily updates for all games sent straight to your phone?
Subscribe to Bet India's Telegram Channel for a chance to win!
Read our analysis and preview for Novak Djokovic vs Daniil Medvedev match below.
Novak Djokovic vs Daniil Medvedev H2H
Djokovic leads 4-3 in the head to head tally
They last met in the ATP Finals where Medvedev won 6-3, 6-3
Medvedev has beaten Djokovic in the ATP Finals, Cincinnati Masters, and Monte Carlo Masters
Medvedev to win: Why is this a good bet?
The Russian has dropped sets in only one match this tournament
Djokovic, by contrast, has dropped a set at least in 4 of his last 6 matches
Medvedev has beaten the Serb in 3 of their last 4 meetings
He is also in a comparatively better form than the Djokovic
The best tennis betting sites in India have Djokovic as the favourite to win this Australian Open 2021. After all, the Serb is chasing his 9th Melbourne Slam and given his experience and momentum, he should be successful in his endeavour.
That said, Djokovic hasn't looked as sharp as we would have preferred to see him. Plus, the fact that the winning odds for Daniil Medvedev are not that far apart from Djokovic's tells us that the bookmakers too are unsure if Djokovic can truly go the distance here.
In the first week here in Melbourne, he faced some tough games against the likes of Frances Tiafoe, Taylor Fritz, and Milos Raonic.
The one against Fritz went on for five sets and saw the top seed take the game with 7-6(1), 6-4, 3-6, 4-6, 6-2. In fact, after that demanding win, there were doubts if he would be able to continue playing owing to his fitness.
Of course, Djokovic managed to dispel all fears and defeated Raonic in four sets to reach the quarterfinal. Over there, he met Alexander Zverev and survived the German with 6-7(6), 6-2, 6-4, 7-6(8).
After that, it was an easy breeze for the two-time defending champion as he beat the Russian qualifier Aslan Karatsev in the semifinal in straight sets.
As a consistent World No. 1 player, Novak Djokovic is among the most prolific players on the tour but the dynamics are slowly changing.
After losing the French Open last season to Rafael Nadal, the 17-time Grand Slam champion lost in the fourth round of US Open to Pablo Carreno Busta. Then, in the year-end ATP Finals, he was handed two defeats by the likes of Medvedev and Dominic Thiem.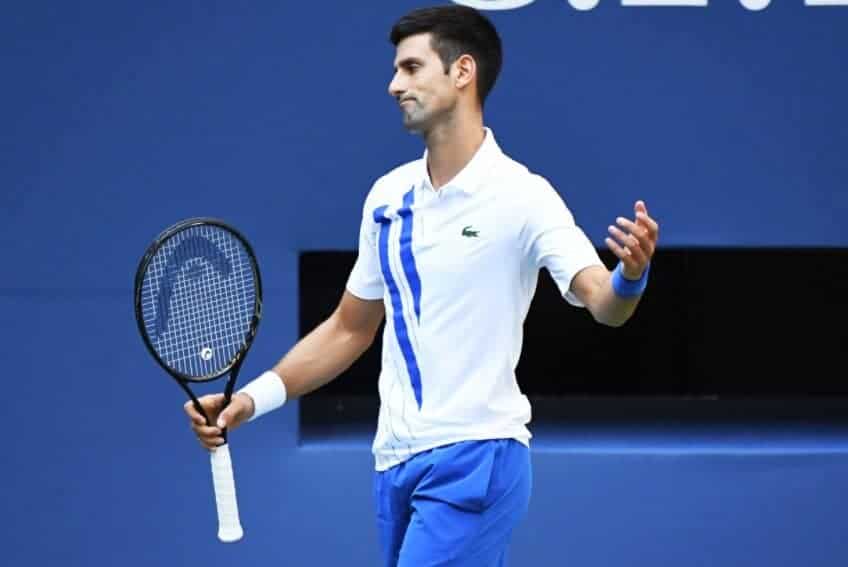 Medvedev, a legend in the making
Medvedev's rise to prominence has been in the making for quite some time now. Following his runner-up feat in the US Open 2019, the Russian managed to put himself on the map and from that point on, it only got better.
Currently ranked World No. 4 – his career-best singles ranking, Daniil Medvedev has been on a brilliant run in 2021. Starting the season at the ATP Cup where he led Russia to a 4-0 singles victory and the title, the 25-year-old built his confidence and momentum right in time for the Grand Slam.
Moreover, at the ATP Cup, he recorded three top 10 victories over Zverev, Diego Schwartzmann, and Matteo Berrettini.
Not so surprisingly, Medvedev continued the same run in the Australian Open too, beating Vasek Pospisil and Roberto Carbelles Baena in straight sets. In the third round, he faced some resistance from Filip Krajinovic but managed to overcome him in five sets.
Thereafter, it was a smooth sailing for the Russian as he stormed past Mackenzie McDonald and Andrey Rubleve to reach the semis. There, he made easy work of the Greek star Stefanos Tsitsipas, as he beat him 6-4, 6-2, 7-5.
Medvedev has been in this sort of a clinical form for a while. He won the ATP Finals last year, beating World No. 1, 2, and 3 in the same tournament (Djokovic, Nadal, and Thiem). He also won the Paris Masters and reached the semifinal at the US Open.
Over 42.5 games in the match: Why is this a good bet?
Medvedev has beaten Djokovic thrice in his career already and that's where his pedigree lies. Combine that with the superb form he is in right now, he should be able to give the Serb a good fight for the Grand Slam.
Expect this to be a battle of the evens, one that will most likely go to five sets and will see over 42 games.
Where to bet on Novak Djokovic vs Daniil Medvedev
Those were our winning predictions for the Novak Djokovic vs Daniil Medvedev match.
Remember, when it comes to online betting in India, we recommend working with 2 or 3 betting sites so you get the best odds possible on these matches.
We have done the research for you and identified the top sites where you can bet safely and responsibly.