ATP Cup 2020 Preview – What to Expect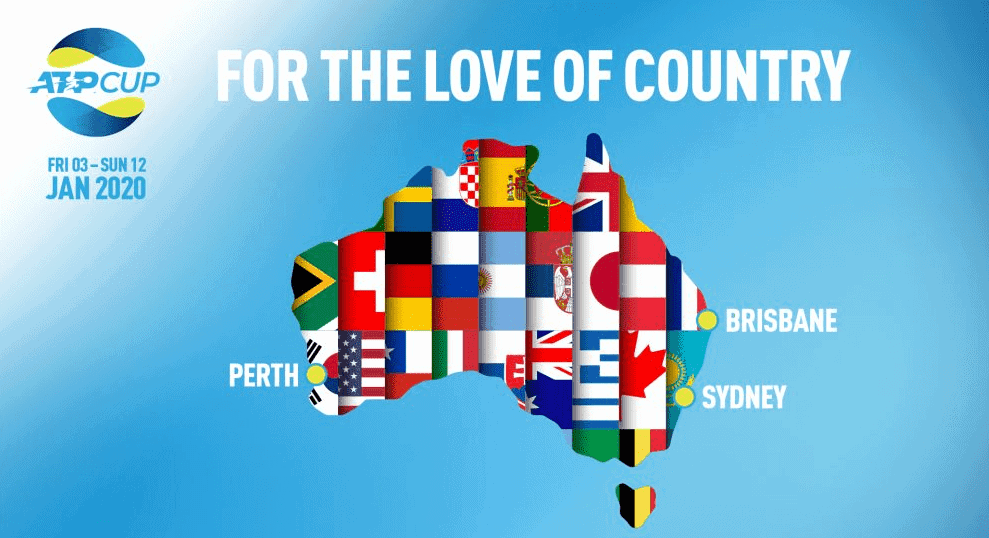 The ATP Cup is a brand new tennis tournament which is like a tennis world cup, featuring some of the best male tennis players across the world, competing for a $15 million prize money and bragging rights. These ATP stars will be representing their respective nations over a period of nine days and the talent pool here is second to none. Even from a tennis betting point of view, the ATP Cup makes for a fantastic event to bet on, given that 15 of the top 20 ATP players are set to participate. Moreover, it will also give you an idea of what to expect in the season, going forward.
The competition will take place in Australia from January 3 to January 12 across three cities – Sydney, Brisbane, and Perth. In many ways, the ATP Cup is like the defunct Hopman Cup except, it is on a much larger scale.
The Format
The countries which qualified for the tournament were decided as per the top ATP singles ranking of its respective players. There are 24 participating nations, including Australia which got a wild card as the hosts. The teams are:
Serbia, Spain, Russia, Austria, Germany, Greece, Japan, Italy, France, Belgium, Croatia, Argentina, Georgia, South Africa, United States, Canada, Great Britain, Australia, Bulgaria, Chile, Poland, Uruguay, Moldova, Norway.
Each nation will be represented by its top three tennis players. To put things in perspective, some of the leading names that are participating are Rafael Nadal, Novak Djokovic, Alexander Zverev, Stefanos Tsitsipas, Dominic Thiem, Daniil Medvedev, John Isner, Denis Shapovalov, among others.
The 24 teams have been split into six groups of four, ranging from Group A to Group F. The group matches will take place in a robin round format where the winner of the group will qualify for the playoffs. Hence, six teams in total from each group will move into the next round, with the remaining two teams set to qualify as per their runner-up positions.
Each tie between the countries will feature two singles matches and one doubles match. The countries with the most wins and highest scores will move into the final eight.
A Preview of the Matches
Given the massive talent pool at the ATP Cup 2020, the matches are going to be incredibly intense, to say the least. Case in point, the very first fixture between Greece and Canada will feature Stefanos Tsitsipas taking on Denis Shapovalov. This match is important for many reasons, but more so for the fact that these two youngsters are shaping the future of men's tennis on the circuit.
Similarly, the tie between Germany and Australian on Friday, January 3 will see Alexander Zverev lock horns with Alex de Minaur, but Nick Kyrgios will go head to head with Jan-Lennard Struff.
And if this alone wasn't exciting enough to peak your interest, we will also see Novak Djokovic takes on the South African No. 1 Kevin Anderson when Serbia faces South Africa on Saturday. And as we head further into the tournament, we will see the likes of Zverev and Tsitsipas crossing paths, with Rafael Nadal also coming up in the action.
Needless to mention, these are the kinds of matches we get to see in the penultimate rounds of a Grand Slam. To be able to see them here and wager on it is truly a spectacular sight. Granted that players may have nothing to gain here as there are no ranking points at stake, but the pride of representing your country and doing well on the international level is certainly more important than anything else.
Betting on the ATP Cup 2020
Bookmakers clearly realise the massive betting potential in the ATP Cup 2020 and as a result, you will find this tournament at almost every leading sportsbook. From outright team betting to betting on individual matches, there is no limit to what you can do here. While at times, it can be a bit tricky to pick the winner of a particular match, you can make up for it by betting on other markets like:
The total number of games to be played
The total number of sets
The number of aces
And many more
For instance, in a top-tier match between Djokovic and Nadal, one can expect it to go to three sets in a fiercely-contested tie. The same goes for pretty much any other game where there are two, very talented players with an incredibly close history. The trick here is to look at the head to head meetings of the two players, their recent form, among other parameters to make the right call.
If you are looking to wager on the ATP Cup 2020 and we believe that you should, especially if you are dabbing into the world of tennis betting, we recommend you check out our list of operators, along with our comprehensive guides on the subject. You may also want to bookmark this page as we will bring you the latest previews, betting tips, and predictions for the ATP Cup 2020. Happy winning, folks!