Top 5 Tennis Defaults: Djokovic in Elite Company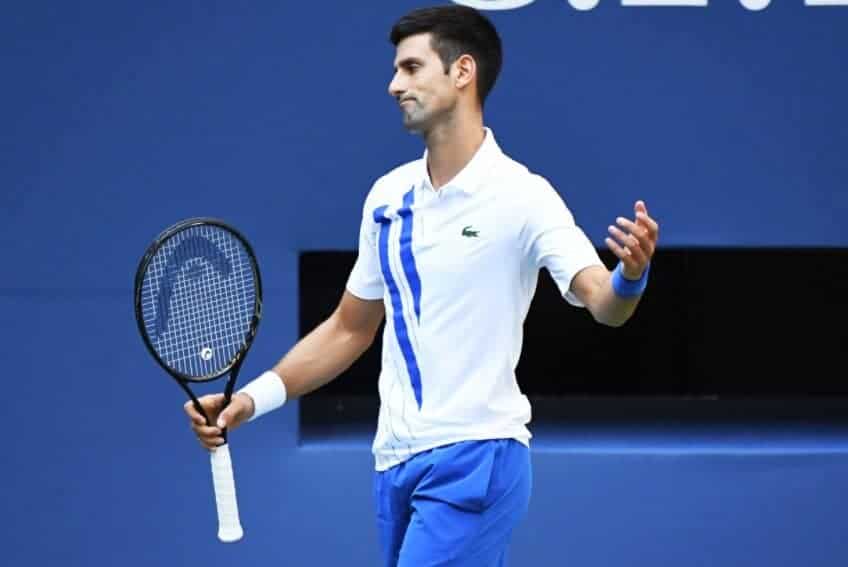 The disqualification of Novak Djokovic at the US Open this week was just about the biggest news story in the whole of sport.
It was a decision by the tournament organisers that split opinion and one whose importance was magnified by the fact that this is the World Number 1, US Open online betting favourite and defending champion we're talking about here.
But moments of madness and short tempers flaying which lead to defaults are nothing new in tennis.
Has it ever happened at the US Open before? What other big-name players have left the court early in shame?
Let's find out.
Deposit ₹10,000 – get ₹10,000 EXTRA
Dozens of cricket & kabaddi markets
Accepts IMPS bank transfers
Betting App available
100% Welcome Bonus up to ₹2,500
Focused on cricket for the Indian market
Fast withdrawals with rupees
Live streaming of matches
Novak Djokovic v Pablo Carreno Busta – US Open 2020
No Nadal, no Federer, his two big rivals absent for different reasons in New York and a wonderful chance to add yet another Grand Slam trophy to the Serbian's overpopulated trophy cabinet.
One of the shortest favourites in a long time to win a Grand Slam, it seemed like he pretty much just had to show up and that sooner or later he'd beat whoever was on the other side of the net.
But a bad fall on his shoulder, a few wayward shots, three set points thrown down the drain and to add insult to injury, getting broken by Spaniard Carrena Busta, proved too much for him.
As he realised he was 6-5 down in the first, he swatted away a ball which ended up hitting a line judge on the throat.
Don't f**k with the judges!
A quick realisation of what had just happened was followed by a seven-minute conversation at the net with Umpire and Tournament Director and that in turn was followed by a handshake with a bemused Busta, as the 'Serbinator' accepted his fate.
It's been a bad year for Djokovic with strange comments about anything from water to viruses on Social Media, an ill-judged tournament he organised leading to himself and other players contracting Corona and the creation of a poorly received breakaway players' union not going as planned.
This was the last straw in what has been something of an annus horribilis for him, despite winning the Australian Open in January.
For all you tennis betting fans, you should be aware that Danii Medvedev (2.5) and Dominic Thiem (3.2) are now the favourites to go on and win the tournament.
David Nalbandian v Mario Cilic – Queens 2012
Nalbandian was your typical mercurial player in the noughties, who could show up and not be that bothered and on another day, be close to unplayable.
Remarkably, he made a Wimbledon final in 2002 in his first-ever appearance in a grass-court tournament, losing to Leyton Hewitt but it was in his second and final grass tournament, also on the London grass but this time at Queens, that disaster really struck.
He was a set up and had just gone 4-3 down in the second when in his followthrough from chasing a ball, he kicked an advertising board which resulted in splinters from the wooden panel flying into the leg of a Line Judge, whose leg started bleeding.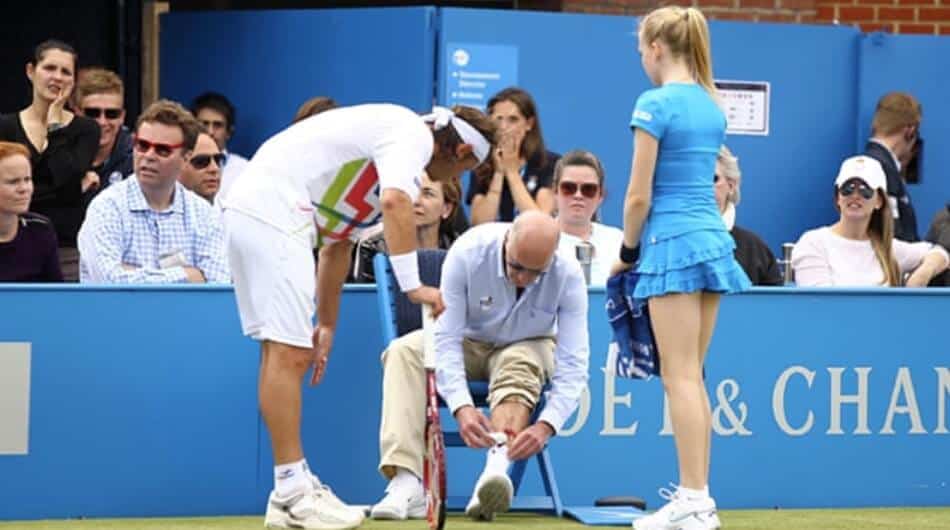 There was no way back for Nalbandian, who was disqualified, lost all his prize money and got fined on top of that.
Just over a year later, he retired from the game due to a shoulder injury.
He may have lost those two grasscourt finals but few can lay claim to beating RogerFeder in his prime from two sets down, which is exactly what he did in the final of the 2005 Tennis Masters Cup.
Canada v Great Britain – Davis Cup 2017
17-year old Denis Shapolov was representing his country at the Davis Cup in 2017 on home soil in Canada and had just gone two sets down when a ball meant to be hit high into the crowd, was badly mishit.
So badly, that it ended up hitting Umpire Arnaud Gabas flush in the eye, who looked in instant discomfort and ended up going to the hospital in Ottawa for routine checks.
As for Shapovalov, he ended up being disqualified.
In truth, he was on the verge of losing to Briton Kyle Edmund anyway but for one so young, it was quite the humiliation to be thrown out while representing your country in front of your home fans.
And speaking of home fans…
Deposit ₹10,000 – get ₹10,000 EXTRA
Dozens of cricket & kabaddi markets
Accepts IMPS bank transfers
Betting App available
100% Welcome Bonus up to ₹2,500
Focused on cricket for the Indian market
Fast withdrawals with rupees
Live streaming of matches
Serena Williams v Kim Clijsters – US Open 2009
At least Djokovic wasn't disqualified in the final of the US Open.
Back in 2009, Serena Williams discovered to her cost that being the home favourite and biggest name in the sport doesn't save you when you misbehave.
Serving at 4-6 4-5 15-30 down against Kim Clijsters in the 2009 final, she was foot-faulted on her second serve, her left sneaker on the line being picked up by an eagle-eyed Line Judge.
Serena angrily confronted the Judge, waving her racquet in a menacing way in her direction and apparently issuing some sort of 'death threat' in the process.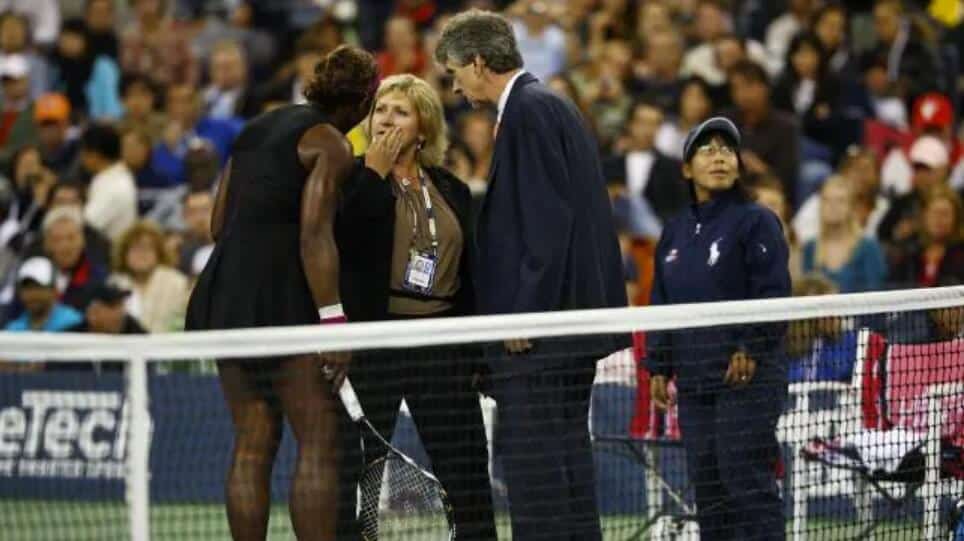 The Line Judge wasn't having any of it, reporting Serena, who already had a code violation for smashing a racket.
Serena was deducted a point and, given she was facing match point, that was that.
11 years later and Serena is in contention to win the US Open once again, currently available at odds of 3.25 with 10CRIC.
Meanwhile on the other side of the Atlantic…
Nick Kyrgios v Casper Ruud – Rome Open 2019
Kyrgios is one of the most talented, colourful, yet controversial players in the game.
In 2019 after being upset about spectators moving around when he was serving in Rome, he hurled abuse at them, for which he was given a one-game penalty.
Disgusted at the initial punishment, he then smashed his racket, kicked a bag and finally, threw a chair onto the court.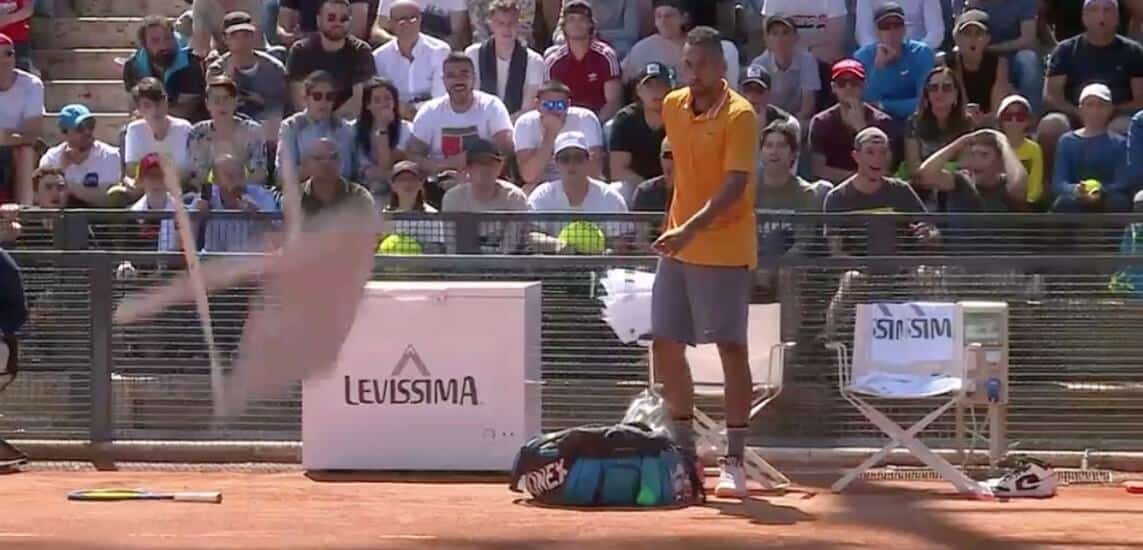 At this point, he told the Umpire he'd had enough, packed his bags and voluntarily walked off.
Only later was it confirmed that he'd actually been defaulted anyway, the Umpire not having the chance to inform him of that because of how quickly he left.
Betting on the US Open
It seems that thanks to Djokovic's antics, there are a lot of new and interesting possibilities after opening up for favourites to win the US Open.
Below, you'll find the best sites for online betting. They are all offering great odds and are all available in India.
Find your new favourite right here.