Guide to betting online with Bitcoin
Betting online with Bitcoin is quickly becoming a favoured payment method at sports betting sites in India.
Plus, with the Indian Government recently lifting its ban on cryptocurrency trading, it makes more sense to dive into this exciting world!
I personally love using digital currency while betting, as it helps protect my identity and enables me to deposit or withdraw funds anonymously.
If you're just like me and curious to know how it's done, then read on. Here we will cover:
Sites that work with Bitcoin
How to top up your betting account with this cryptocurrency
The fundamentals of buying and storing Bitcoin
Best Indian sports betting sites that accept Bitcoin
Deposit ₹10,000 – get ₹10,000 EXTRA
Dozens of cricket & kabaddi markets
Accepts Paytm & G-Pay
Betting App available
100% Welcome Bonus up to ₹10,000
Fast withdrawals with cryptocurrency
Great 24/7 customer support
Huge range of sports to bet on
How to deposit with Bitcoins
Step 1: Go to the online betting website and register
If you haven't registered at an online sports betting site that accepts bitcoins, quickly do one. The sign-up process is free and usually requires only 2-5 minutes to complete it. All you have to do is enter your name, mobile number, address, etc.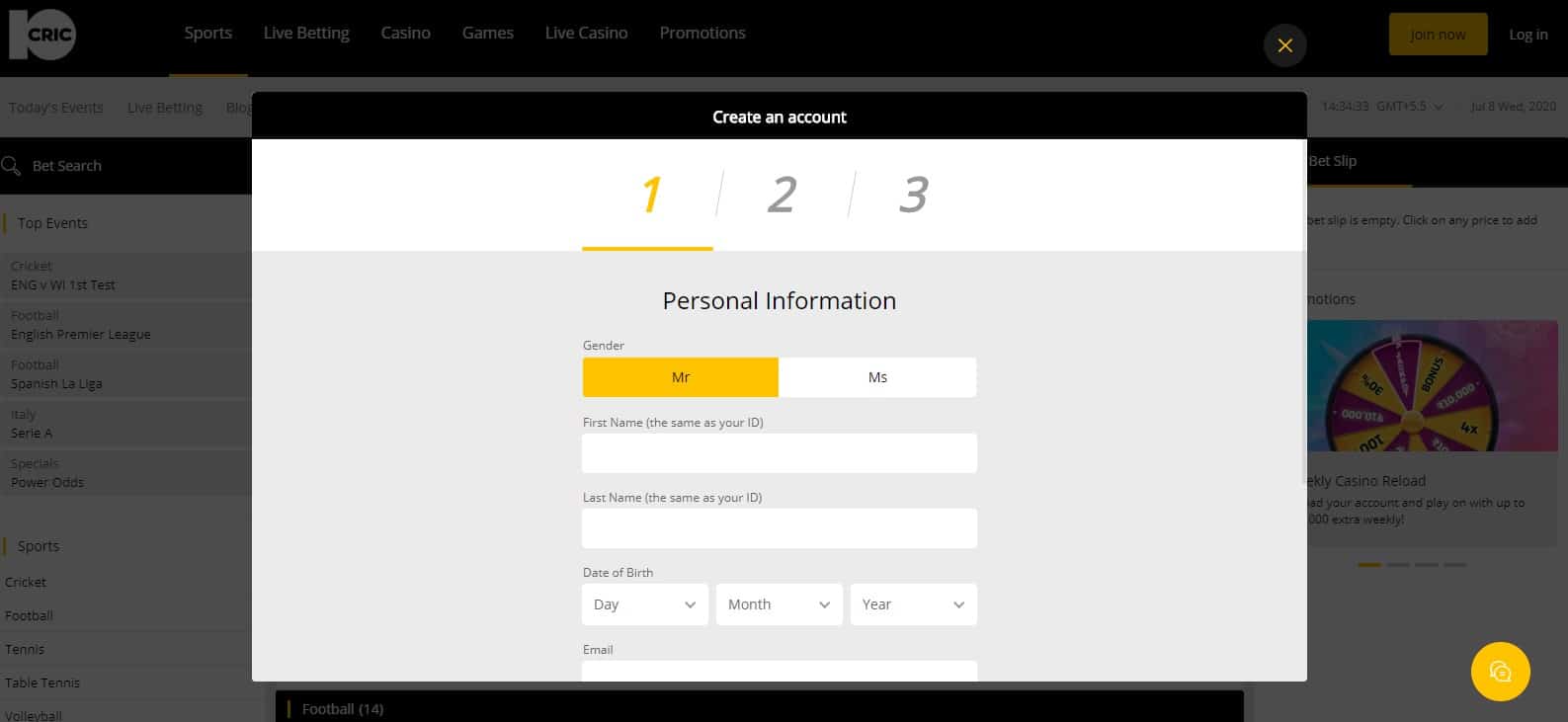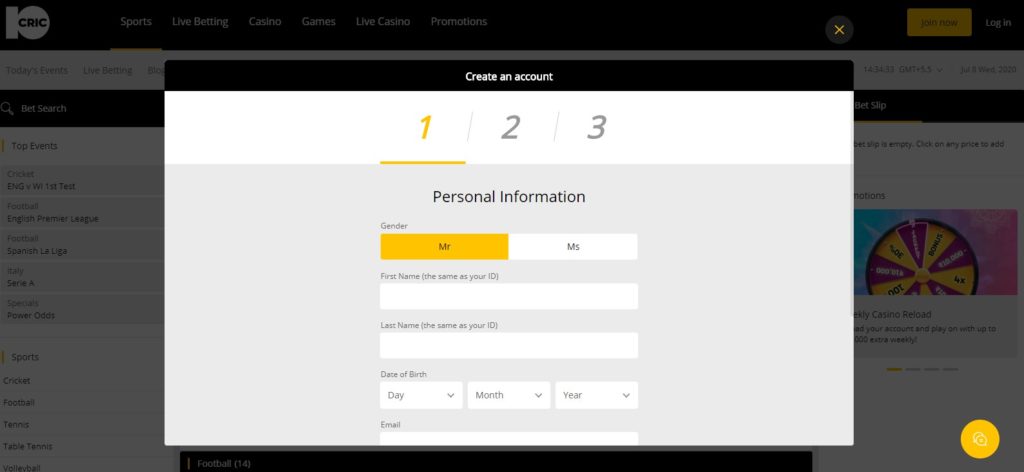 Step 2: Choose the payment option as 'Bitcoin' while depositing
After you have registered, the next obvious step is to 'deposit some money to play.' Now, this is the fun part. While doing this, select the payment option as bitcoin.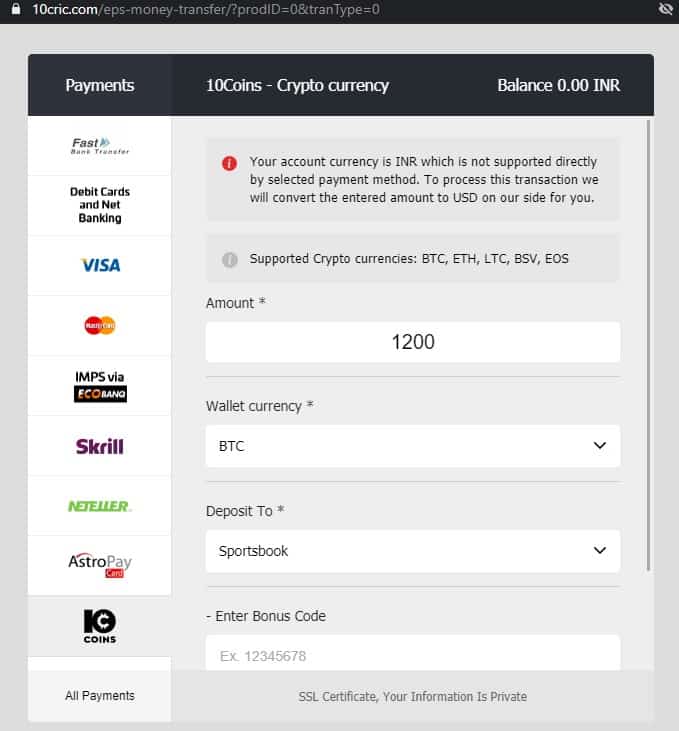 When you do this, you usually get a pop-up message, which looks something like this: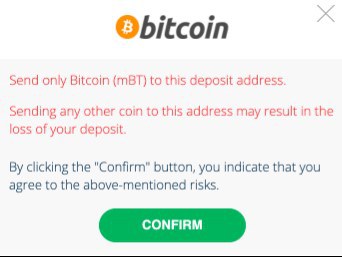 Click on "Confirm" to proceed.
Note that this pop-up differs from one betting website to the other but overall it's the same. Just follow the instructions and proceed.
After you confirm, you'll usually get a wallet address to make payments via bitcoin.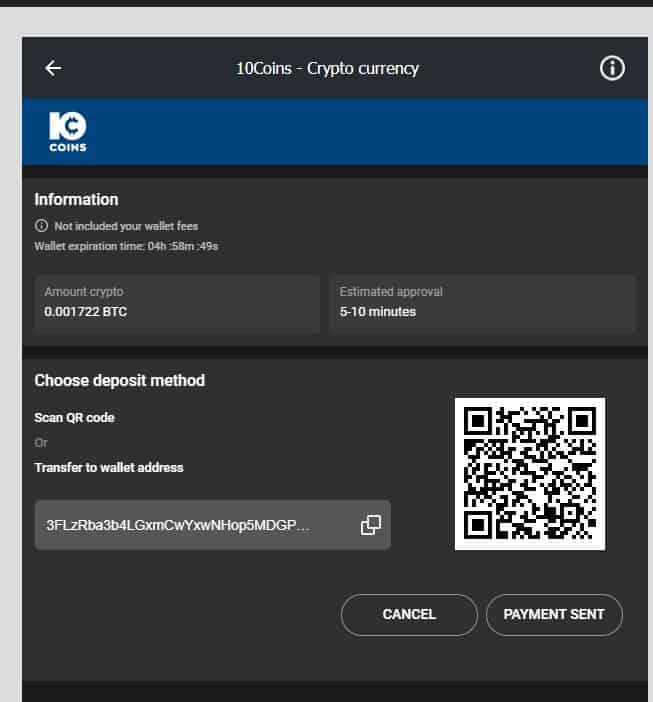 You can either:
Copy the wallet address and save it somewhere (this is important, as you'll need this later).
Or, scan the QR Code that's displayed.
Just like a minimum deposit amount is required to pay to play, the same applies to bitcoins too. You'll have to deposit the minimum bitcoins required. In this screenshot, it is 0.08 mBT. Again, this differs from website to the other. So, keep an eye on this.
Step 4: Go to your bitcoin wallet and paste the address
So, the idea is simple. The wallet address that you had just copied needs to be entered in the bitcoin wallet to send the Bitcoin to your betting account.
Now, if you're new to bitcoins, I'm pretty sure you'll be clueless with the word 'Bitcoin Wallet.' But stay with me because I'm going to explain that in detail right after these steps.
Step 5: Confirm the transaction and play
Next, enter the minimum bitcoin amount and confirm the transaction. Once this is done, the funds will be available within a few minutes on your online betting account. You can use it to bet.
How to create a Bitcoin account
There are different betting sites that accept bitcoin deposits but make sure to go only with the legit ones. Remember, there are even fake sports betting sites out there. So, don't fall into a trap. I have already highlighted some of the best ones in this article, feel free to sign-up with any of those.
Coming back to what I wanted to discuss—bitcoin wallets.
Let me tell you that the process of depositing bitcoins for gambling isn't that complicated as it sounds. It is pretty straightforward just like other traditional payment methods. But before you make a deposit, you need to have a few bitcoins first. And even before that, you'll need a secure place to store them. This is often called a Bitcoin wallet.
Choosing a bitcoin wallet
You can register your account with different wallets, each of which will be classified into 2 types:
Software Wallets: These wallets are a little tricky because you'll have to download the program and run it from your computer. However, they are more secure than web wallets because you have total control, keeping you independent from third party services. Popular software wallets are Armory, Bitcoin Core and Multibit.
Web Wallets: As the name implies, these are web-based wallets and are the most convenient and easiest ones to use. Coinbase, Blockchain, and Xapo are a few good examples of web wallets. All you have to do is sign up with your email ID and follow the instructions given there to register your wallet and further, use it to place your bitcoins there.
Tip: When it comes to online betting, go with web wallets as they are easy and convenient.
Buying a few bitcoins
So, how do you get some bitcoins to your online betting website? It's easy and fun. Since I use Coinbase and Blockchain to do this, I will explain with these two. The process is the same overall. Just a few minor things change. So, don't be worried.
Register an account at Coinbase.com.
Coinbase will send you a verification email. So, click on it to verify your account.
Next, the website prompts you to complete a few more processes by entering your valid phone number and payment details (linking your bank account).
The phone number that you input here enables you to add two-factor authentication to your registered account. I highly recommend you to do this because anyone whose account is hacked can literally tell you that it's a disastrous occurrence. So, don't take this part lightly. This extra little verification lets you safeguard your money.
Next, you need to enter your bank account details.
To make any bitcoin purchases, you'll have to link your debit card that's associated with your bank account. Speaking of a platform like Coinbase in specific, it asks for your routing & account number you will use to buy or sell bitcoins.
The next step is to buy a few bitcoins.
You will be next taken to the dashboard where you will see a menu option named Buy/Sell. Click on it. Then click on the tab called Buy and choose Bitcoin.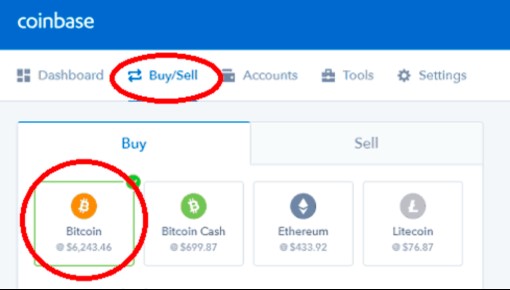 Here, you can either enter the amount in EUR or USD that you want to send from your bank account.
For the amount you enter, the equivalent bitcoins you'll receive will be shown. Adjust the amount in a way that you match the minimum bitcoins required to bet online. However, if you want to purchase more, that's completely up to you.
Finally, click the buy button and you'll have your purchase. But keep in mind that there's a nominal fee associated with each purchase.
Next, Coinbase will give you a time frame as to when your bitcoins will be available in your account.
These estimates are a little conservative. Usually, you'll have the bitcoins ready before the mentioned deadline. So, don't worry.
Sending the purchased bitcoins
The next step is to go to Blockchain.com to send your bitcoins to blockchain while cashing out from any online sports betting site in India.
Click on the signup button on the top right corner. You will get two options to go with. Choose Blockchain Wallet. Fill your details and click the Create Wallet button after that.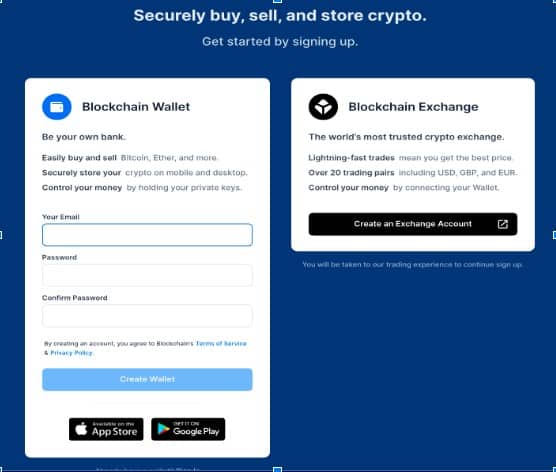 Once your blockchain wallet is registered, you'll receive a verification email. This is a pretty straightforward step. Just click on the link given in the email and it's done!
With bitcoins in the wallet, you can then deposit right into your online sports betting account to begin playing. Most betting sites will create a bitcoin holding wallet (temporary) automatically when you register. So, it's this temporary wallet where you deposit to place your bets. And it's also the same place where the operator will deposit your winnings.
The code you copy from the website (the betting site provides this) needs to be pasted onto your bitcoin wallet, which has the funds you wish to deposit into your betting account wallet. Do this by clicking the "Send" button from the blockchain.com's dashboard.
Blockchain will then give you an overview of all the details for the transaction that's proposed. Check if there are any mistakes. If everything is fine, hit the button "Send Bitcoin." But if there's something wrong, click "Go Back" and modify whatever you want to. This way you send the bitcoins to the desired sports betting site's account.
Once you send the amount to your bitcoin wallet, your money will reflect into your online gambling account within 10 minutes. When this happens, you're all set to place your bets.
Note: Never transfer bitcoins from any online bitcoin exchange to your betting account directly. Always transfer your bitcoins to a wallet first and then, send it to the bookmaker. If you still do such a transfer, then the online bitcoin exchange will block the account and you definitely don't want that, right?
What documentation is needed?
Verifying your identity prevents fraud and further, ensures that only 'you' can use your payment information to make exchanges.
To register in any of the renowned and trustworthy bitcoin wallets in India, you will need these documents handy:
Government Issued ID
Bank statements (of last 3 or 6 months with your name and address)
Photo proof, which could be any of these
Verifying your bitcoin account
The verification process of bitcoin wallets in India usually takes from 3 days to 2 weeks.
The security and privacy of your digital identity is one of the major concerns, especially in the Digital Era.
It's even more crucial when it comes to cryptocurrencies. Hence, blockchain technology may just be the right solution to fulfil all your identification details.
Moreover, the details required to prove your identity and other information are truly valuable assets and when in the wrong hands, things can turn out to be catastrophic. That's why verifying who you are and where you are from (to the platform you're registered with) prevents identity thefts and fraudulent financial activities.
Just like any other platform, even your crypto wallet needs to be verified. If you fail to do this, not only will you be able to access the complete dashboard but also can sabotage your security.
That's why every Indian punter needs to understand the importance of the verification process. So, before you start betting at any online betting site and deposit with bitcoins, make sure you have completed your KYC requirements and everything is clear to proceed.
With an unverified account, you'll neither be able to win nor withdraw money because your bitcoin wallet won't accept incoming transactions. So, rather than wondering at that time, make sure you do this in prior. This is something many newbie players don't do and hope you don't do the same.
Deposit ₹10,000 – get ₹10,000 EXTRA
Dozens of cricket & kabaddi markets
Accepts Paytm & G-Pay
Betting App available
100% Welcome Bonus up to ₹10,000
Fast withdrawals with cryptocurrency
Great 24/7 customer support
Huge range of sports to bet on