Make Sports Betting Easy With These Google Pay Sites
If you are not living under a rock, you might be aware of the gigantic sweep taken up by Google Pay in the e-wallet and e-transfer industry. With easy to pay procedures and of course, the beloved scratch cards, Google Pay or often known as G-Pay has cracked the code of making online transactions easier, engaging and secure for users.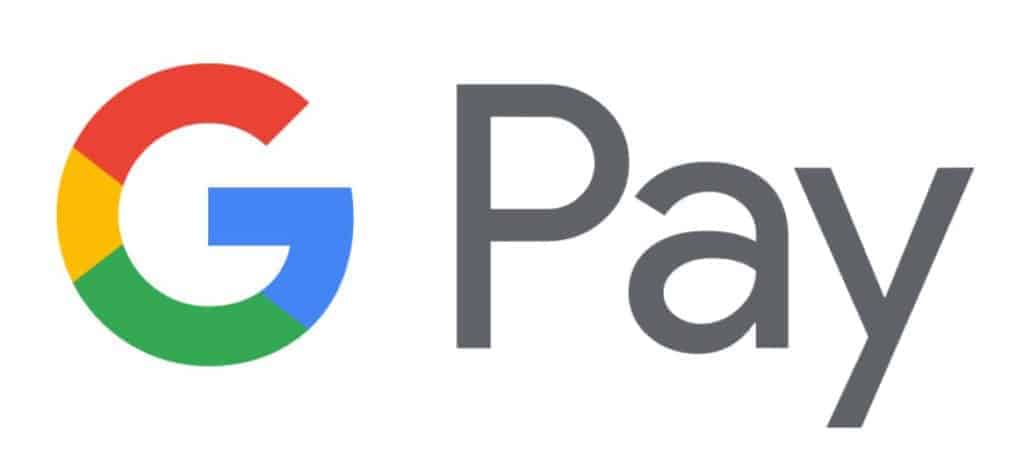 From retail to bill-payments, almost all sectors are embracing Google Pay, so why should online sports betting be far behind?
Being a Google Pay user and gaming enthusiast myself, this is a match made in heaven for me. In this article, I will be:
Listing Google Pay compliant betting sites.

How you can use Google Pay to transact and top up your betting account. 

Charges and other important aspects of betting

And much more!
Guide to betting online with Google Pay
Using Google Pay for your betting preferences is one of the best things you can do to make your sports betting experience pleasant and smooth. You might be wondering why must you shift from your trusted payment methods for betting and switch to the new arena of Google Pay. 
Allow me to explain:
Google Pay is a highly encrypted and secure payment platform.

You have more control over your gaming account.

You can instantly deposit your money into your betting site – with no time lost.

You are eligible for cashback on Google Pay in the form of scratch cards you'll receive after making a payment on your favourite betting site. 

It is easy to install and set up the app which requires no paperwork or tedious investment.

If you love mobile betting, you will love Google Pay!

Google Pay has joined hands with almost all Indian banks which make the transaction a whole lot easier. 

It has a simple and clean interface with no bells & whistles to confuse you.
Best Indian sports betting sites that accept Google Pay
While Google Pay is yet to pick up the pace with online betting, it is surely becoming a popular choice among many sites. Here are some online Indian sports betting sites that support/accept Google Pay:
1xBet

JeetWin

10Cric

Bodog
How to deposit with Google Pay
It is easy to understand that you might be a little apprehensive about using Google Pay for your deposits. However, some of the biggest names support this platform, so there must be something good about it, right?
Let's push your worries aside by explaining how you can make your deposits with Google Pay. It's not rocket science, I promise. 
Step 1: Select a Google Pay supporting site and go to the deposit page
If your favourite sports betting site supports Google Pay, then all you have to do is login and click on the deposit option.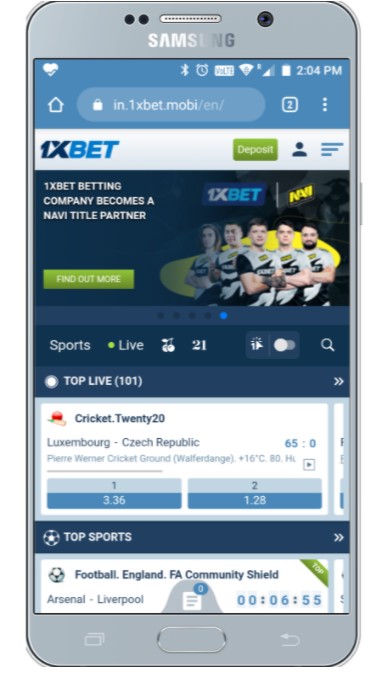 Step 2: Select the currency
Though the currency is usually auto-selected, switch the tab to INR in case it is not. 
Step 3: Select the Google Pay option
Upon clicking the deposit option, you will be presented with a myriad of payment options like bank transfer, MuchBetter, and Skrill to name a few. Select Google Pay option and click on it.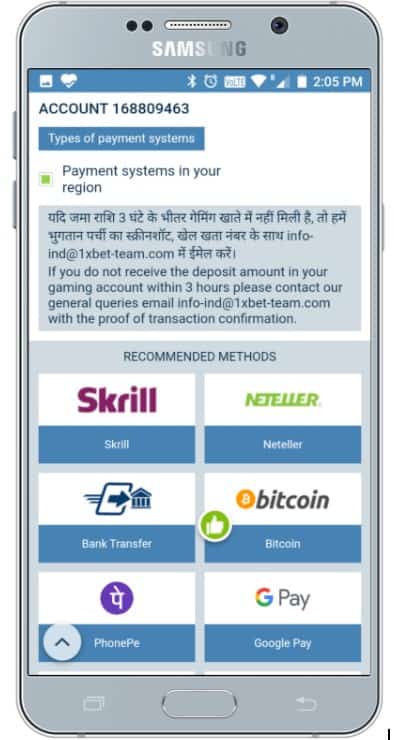 Step 4: Enter your Google Pay details
You will be prompted to enter your Google Pay name, number and id. Please ensure that you enter the correct information as the site will be verifying your Google Pay id. Enter the amount you want to deposit and click on confirm. 
With many operators like Betway and 10CRIC, the option to pay with Google Pay may not be upfront or straight-forward. In such cases, it will say something along the lines of Bank Transfer IMPS/UPI. Since Google Pay is technically a Unified Payment Interface, entering the respective UPI ID/number will do the trick here. Other times, you may also have to transfer the funds first to the operator with your Google Pay app to the mentioned UPI ID and then enter the transaction ID as a proof of payment.
Step 5: Verify on Google Pay
You will receive a notification on Google Pay, informing you about the payment request sent by the betting site. 
Step 6: Pay on Google Pay
Tap the pay button and enter your unique pin to validate this payment. Once confirmed, the betting site will deposit the money in your account.
How to create a Google Pay account
Setting up a Google Pay account is a fairly simple process.  No paperwork, no fuss. 
Setting up a Google Pay account
Open the Google play store or App store and download the 'Google Pay app'. In case you want to set it via desktop, you can do so at

pay.google.com

Go for the language of your choice and tap on the check sign to move forward.

If you have a google account, it will automatically detect your email id, click on 'Continue'. Make sure that you have a google account before you go ahead.

Google Pay will detect the number on your sim card. If you have two sim cards, then you need to select the number that you have registered with the bank account. Enable messages and allow the app to know your location and contacts. 

A one-time password (OTP) will be sent to your mobile number. 

Once verified, you can go ahead and safeguard your Google Pay app with a pattern or Google pin. Select the option and click on 'Continue'.
Adding bank to your Google Pay account
Once your account is set, you need to add a bank account to your app to enable transactions. For this, you need to visit your profile by clicking on your picture on the top right corner. 

A new page with  'Add Bank Account,' option will be displayed on your screen. Tap on it.

Choose your bank from the list given. 

Google Pay will send a verification SMS to the bank where the bank will verify your details in an automated process. This usually takes around 3-4 minutes. 

Once verified, you will be asked to verify your bank account – for which you need to keep your debit card handy. Enter the last 6 digits and tap on the check button. 

Now you'll be asked to 'Enter UPI PIN' that will link your Google Pay account with your bank account.

If you don't know your UPI pin, tap on 'Don't know your UPI PIN?' and follow the instructions that come up. 
Note:
Make sure that your name registered on Google Pay matches the betting site. If they don't the site is most likely to reject the deposit request. 
What documentation is needed?
To be honest, there is no documentation needed for setting a Google Pay account. All you need is a verified phone number, valid bank account and its debit card. The entire process is automated so you don't exactly have to submit anything extra which makes it so much easier to transact. Although this should not be your ticket to recklessness. Responsible gambling in sports should still very much be a part of your online betting activities. 
Verifying your Google Pay account
Monetary investments are not meant to be taken lightly and betting certainly comes under that category! In this case, it is important that your payment method, in this case, Google Pay account is verified on your betting site. 
This is an important step as the site will not move along with deposits or any transaction, thus, making the entire betting excitement null and void. 
All you have to do it:
Select Google Pay as your payment option. 

Enter your UPI id – for example,

[email protected]

Your betting site will look for the validation of the UPI id.

If your UPI id is valid, the betting site will automatically verify your Google Pay account and you can transact easily post the validation. 

The process is prompted with every payment you make and I personally think it is an extra step towards safeguarding each and every transaction on the site. 
Privacy and confidentiality
Google Pay does not compromise on user's security and fortifies it using its collection of top security features that is used to prevent hacking, detect fraud and protect user identity. 
However, it also helps to set a strong PIN and be vigilant about the Google Pay account. It is not meant for others to access and that can be potentially bad for your monetary health. 
Make sure that you have a strong Google PIN and UPI PIN for your Google Pay account. 

Ensure that no one else has access to your Google Pay account and worse, knows your pins and patterns. 

Add an extra security layer by using a phone screen lock in the form of pattern or PIN, in case the phone gets lost or stolen. 
Betting online with Google Pay
Betting online with Google Pay takes away unattractive problems like tardiness, difficult to use and most importantly, low to no security. In fact, if you are interested in tennis betting or want something closer to home like cricket betting, your Google Pay supporting betting site should be able to help you place your money with Google Pay as easily as your current payment method.
 I would like to think it can be better since you longer have to go through the documentation process and waiting period. A debit card, legible Google account and you're good to go!
What you need to know when depositing
All betting enthusiasts will agree with me when I say that it is nice for a change to witness quick and easy deposits. Google Pay gives you the pleasure of instant deposits while protecting your sensitive information with multiple layers of security. It helps to know that Google is one of the world's biggest digital companies that have an upper hand on data encryptions.
There is no fee involved in the process and you receive the amount you entered on the app into your deposits.
Since the service helps you transact only with the cards you have registered, you can be assured of the safety and regulated activity with your money that only you can validate and approve.
However, since Google Pay is a safety device for your banking accounts and debit cards, these transactions will appear on your bank statements. It will be under the name of your betting site here since Google is just a transaction intermediary. 
What you need to know when withdrawing
Unfortunately, withdrawals are not currently possible via Google Pay but we can hope they come up with that feature soon. In the meantime, you can try other existing withdrawal methods while betting online.
Now that you have one more payment option for your betting activities, what are you waiting for? Try Google Pay on your favourite site and let me know if it enhanced your betting and gaming experience.