Making Online Payments at Sports Betting Sites Easier with MuchBetter
E-Wallets have become hugely popular these days as a payment method for betting sites! If you're using one or looking to use one, then take a look at what betting sites in India have MuchBetter.
You'll also learn a lot more useful things here, including:
Leading MuchBetter betting sites. 

How to use MuchBetter to top up your betting account

Useful tips to withdraw your bet winnings

And much more!
Guide to betting online with MuchBetter 
Using e-wallets like MuchBetter is a fast-growing trend in India, deployed in all activities, especially in online sports betting. Why? Because it is safe, secure and easy to use!

With this:
You can manage your gaming account better.

You get the lowest gaming e-wallet fee.

You receive fast and real-time transactions.

You get higher deposit acceptance rates.

You get greater rewards from MuchBetter and gaming sites.
In fact, India is home to almost 50 e-wallets which stands as a testament to its popularity among the young and old consumers alike. 
Thanks to the e-wallet popularity, it only makes sense to introduce you to MuchBetter which makes online gambling easy and not to mention, fun.
Best Indian sports betting sites that accept MuchBetter 
Having reviewed a plethora of online Indian sports betting sites through the years, we have compiled a list of some leading operators that accept MuchBetter
Casumo

LeoVegas

Royal Panda

Betway
How to deposit with MuchBetter
Now that you are aware of the betting sites that are compatible with MuchBetter, you are now ready to sync your wallet with the betting site. Let's start with depositing with MuchBetter. It is pretty simple.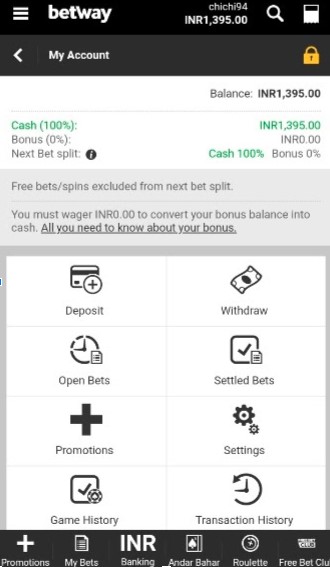 Pro tip: MuchBetter needs a mobile app to work. If you are looking for an e-wallet that supports desktop as well, we recommend you take a look at the betting sites that accept Skrill.
Step 1: Visit your favoured betting site and visit the deposit page
You can log in to your preferred betting site on your desktop or mobile and click on 'Deposit' or 'Bank'.
Step 2: Select the currency
Click on INR Banking if your mode of currency is not selected.
Step 3: Scroll down to the MuchBetter option
You will directly land on the deposit option where you can scroll down and select the MuchBetter payment option.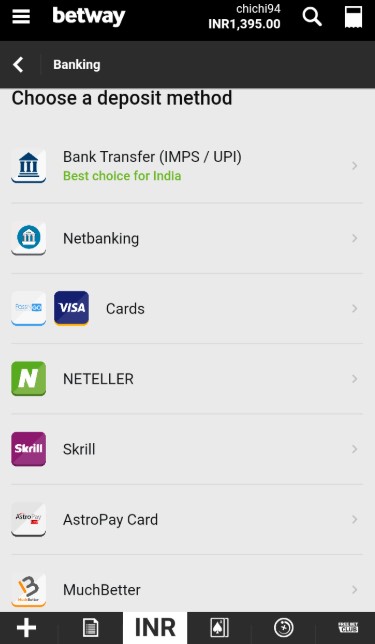 Step 4: Enter the MuchBetter wallet details
Key in your mobile number and fill in the amount of money you want to deposit. Once the values have been entered, click on 'Deposit'.
Step 5: Enter the amount and voila!
Confirm the transaction on the MuchBetter app and transfer funds instantly.
How to create a MuchBetter account
If you are wondering if creating a MuchBetter account is a task, then allow me to ease your worries.
Of course, if you're looking for something more "old-school" that won't require you to set up anything, you should check out using bank transfers for betting online.
The setting up process for your MuchBetter account is as easy as it can be, with simple and direct steps that do not let you digress. In fact, all it takes is a few minutes to set up an account on your favourite betting sites that accept MuchBetter deposits.
Here is a step-by-step guide for you. Quite literally.
Download the MuchBetter app available on iOS and Android platform. 

Tap on the 'Sign Up' button.

You will be asked for your mobile number. Enter the digits and then tap on 'Sign Up'. 

In order to verify the number, the site will send you an OTP via SMS. Enter the OTP in the designated box and the tap on the 'Validate' button. 

Confirm if your number has been verified. 

You can now choose a unique password that is hard to configure for others but easy for you to remember. 

Now you can enter your MuchBetter account and top up your account to instantly start betting.
All of this definitely adds to the mobile betting experience and does go very well with the sports betting apps!
What documentation is needed?
A simple wallet system does not require any extensive documentation for you to set up an account. Here is the list of documents that will work just fine in your quest for a 'MuchBetter journey'.
A valid passport with your name, age, photo, DOB and passport number displayed clearly. Don't worry, all passport photos are scary.

An ID card, or for an Indian, Adhaar card where your name, aadhaar number, DOB, and address are clearly visible. 

A driver's license can also work for documentation purposes. Make sure that all your details like name, address, DOB and driver's license number are clear and legible. 
Verifying your MuchBetter account
If you have been betting for a long time, you understand the importance of not leaving any stone unturned. One of the most important stones here is the verification of your account.
Every punter should have their betting accounts verified before they get on with the game otherwise MuchBetter will not accept any incoming transactions and you will not be able to avail any wins.
Here's a step-by-step guide to ensure that you are on top of the verification process.
Launch the app and enter the password that you had set.

Go to the accounts option and select 'Limits' from the menu.Once there, click on 'Raise my limits' tab. Post that,
Enter the ID verification and then click on 'Continue'.

You can choose the documentation you have selected to verify your identity and your country of residence. 

Snap a picture of the document and make sure that the information available is clear.

Upload the document.

Once your document has been accepted, click a selfie and finish the verification process. 

And that's it! You can now submit your documents and selfie.

You will be notified if your verification process is a success. Usually, it does not take more than 5 minutes.
Privacy and confidentiality
MuchBetter is pretty strict about its confidentiality clauses and leaves nothing to chance when it comes to the user's privacy.
The personal information collected is something that has directly been submitted by the user, .i.e, first name, last name, birth-date, email address, phone number, bank account number (not the CVV) and other financial information that is required to assist the user during the transaction. It also asks for your location and IP address to set the currency.
All the information is only used for providing the required services as well as authenticate the user's access on the MuchBetter platform. It can also be for marketing purposes or survey purposes to improve their services based on the feedback provided. It is also, importantly, used to keep tabs on any violations which may require legal intervention. 
Betting online with MuchBetter
I am sure you are excited to give this simple but oh-so-effective payment method a whirl. Whether it is cricket betting or football betting, MuchBetter has got you covered. However, instead of spending precious time understanding which betting site works well with MuchBetter and researching its deposit and withdrawal process, I have compiled a comprehensive list for you to cut to the chase and get betting. Betting online with MuchBetter just got so much better.
Here are a few things that can help you simplify your path to betting. 
What you need to know when depositing
Though many are yet to embrace the awesomeness of the MuchBetter App, it is slowly climbing the popularity chart.
The best part about depositing with MuchBetter is that these transactions do not show up at your bank account. They respect your privacy and that shall be upheld. Moreover, deposits are instant, secure and icing to the cake – free with a MuchBetter wallet.
Since these deposits and transactions are made only by using your mobile number, you don't have anything to worry about. Even if you are topping your deposit amount, your process is safe from any discrepancy. Moreover, the majority of the partner betting sites do not charge a fee while depositing money via MuchBetter wallet.
| | |
| --- | --- |
| Advantages of the MuchBetter Deposit | Disadvantages of the MuchBetter Deposit |
| No betting activity on your bank statements.  | There is a processing fee while depositing from the wallet to the bank account. |
| Deposits made instantly. | Currency conversion charges may apply. |
| Low minimum deposit of $10 on an average | |
| Secure payments. | |
While we have listed some of the most compatible betting sites with MuchBetter, Betway, LeoVegas and RoyalPanda take the cake.
| | |
| --- | --- |
| | Deposits |
| Minimum | $10 |
| Maximum | $10k |
| Timescale | Instant |
For Betway
| | | |
| --- | --- | --- |
| | Deposits | Withdrawals |
| Minimum | $10 | N/A |
| Maximum | $15k | N/A |
| Timescale | Instant | N/A |
For Royal Panda
| | | |
| --- | --- | --- |
| | Deposits | Withdrawals |
| Minimum | $10 | $20 |
| Maximum | $1k | $4k per day |
| Timescale | Instant | 3-5 days |
For LeoVegas
What you need to know when withdrawing
MuchBetter is a great wallet for most depositing activities, however, it falls a bit short when it comes to withdrawal. In many Indian sites, you are allowed to use the payment platform for withdrawal only if you have used it for depositing an amount.
It charges a nominal amount of processing fee when the money is being transferred from the wallet to the bank and these withdrawals can take up to 5 working days.
If you're looking for a payment method that's instant – then you should know that there are many betting sites with Bitcoin transactions. These are instant and the money will be in your Bitcoin wallet in the blink of an eye.
How to withdraw using MuchBetter?
Log in to the betting site of your choice.

Choose the payment option as MuchBetter. 

Choose the amount you want to withdraw and give the transaction a go by approaching it. 

You will receive a notification upon successful withdrawal.
However, the withdrawal process might take upto 5 working days and to make things a wee bit difficult, not all betting sites support withdrawal – Royal Panda being one of them.
| | |
| --- | --- |
| | Withdrawals |
| Minimum | $10 |
| Maximum | $100k |
| Timescale | 3-5 days |
For Betway
| | |
| --- | --- |
| | Withdrawals |
| Minimum | N/A |
| Maximum | N/A |
| Timescale | N/A |
For Royal Panda
| | |
| --- | --- |
| | Withdrawals |
| Minimum | $20 |
| Maximum | $4k per day |
| Timescale | 3-5 days |
For LeoVegas