Sports-related tech startups have been active for years in striking high-profile agreements with sports leagues – ranging from desi football (the ISL) to the NBA. The fact of the matter is online gaming companies want to cover all bases, simply because various age groups connect through mutual interests. Personal and professional fascinations change with age and define entire user markets segments, helping companies reach them in turn.
As a result of such strategies, immersive sports experiences have kick-started an entire wave of new online industries that are legal and more visible than traditional sports betting platforms. Common interest groups tend to follow mainstream trends.
The largest and youngest age cohort among desi adults (18-24) is the most dynamic in making such choices, casually jumping from one popular pastime to the next. More often, they tend to follow stars and top trends rather than teams and leagues. Their spending and betting behaviour inevitably reflects that.
Age Breakdown Numbers Are Eloquent
The overall breakdown of the most active age brackets allows betting companies to know better and relate to their clients. Bet India has analyzed its own Big data covering 70 thousand registered users in over a year, covering exclusively traffic coming from India.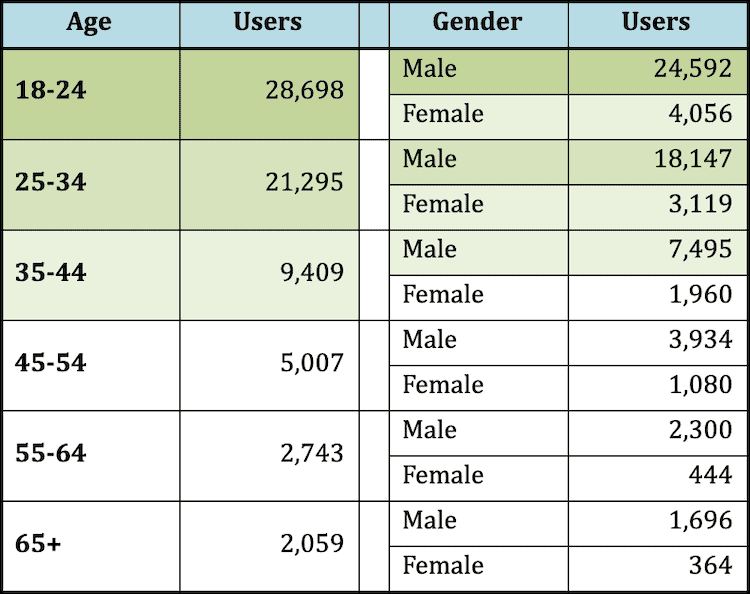 Males have proven the overwhelming majority, with 84% of all users. More importantly, the prevailing age group – 18 to 24 olds – takes up a 41.7% share. Combined with users under 34, they generate almost three-quarters of all online betting traffic (72.6%). Males alone, in the same age cohort, accounted for 62%.
This is consistent with the young setup of contemporary desi society – with a median age under 29 and almost two-third of its citizens under 35. But it also stresses the importance of online market access and technology usage, something which comes more naturally to younger and less conservative gamers.
What's Important to Desi Sports Bettors
Google Analytics data from Bet India allows the extraction of interest categories among registered bettors.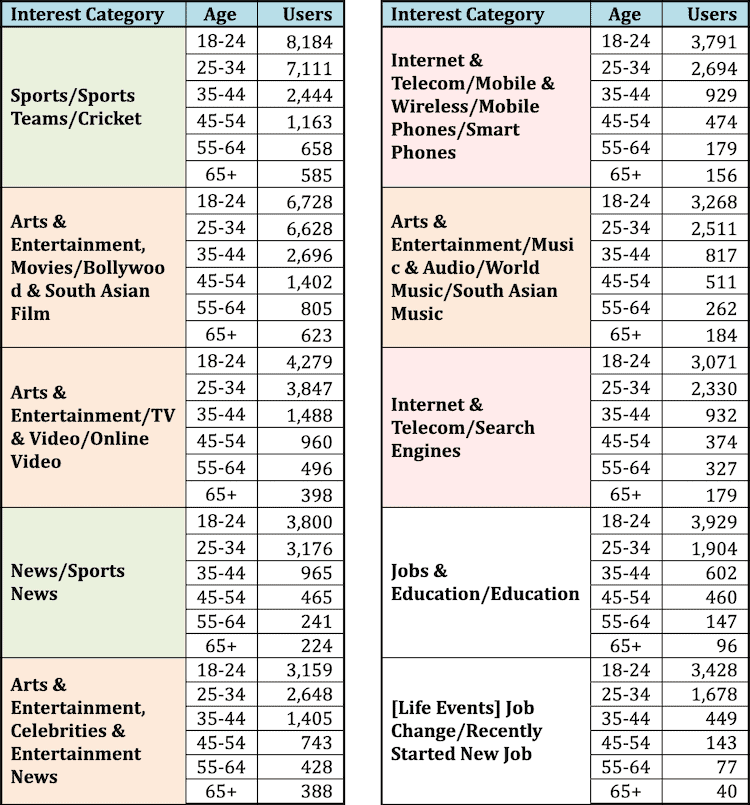 Naturally, sports and related news are the single most important content category. Then again, many sports punters declare interests in entertainment, current events, celebrity lifestyle and various digital media. This is the diverse majority of all users.
Once again, the youngest age groups stand out. What is interesting is that entertainment (music, arts, film) and celebrity-related contents – when combined – account for a larger portion of their preferences. If we add tech gadgets and digital media, sport remains merely one of the markets, not an exceptional one.
Mainstreaming Betting through Stars
The top cricket stars in India are instantly recognizable; the local ones are practically national heroes. Many openly sponsor esports and fantasy leagues played for money, considered rightly an alternative and more flexible form of sports betting.
Ad campaigns with the likes of Sachin Tendulkar, Kapil Dev, MS Dhoni, Sourav Ganguly, Yuvraj Singh or Virat Kohli have a direct impact on the popularity of real-money gaming, particularly its visibility and public acceptance. While they have inspired millions of sports fans, the sheer media coverage and online traction they get mean more for everyday consumers who don't follow the game too closely.
The same case could be made for global stars like Messi or Ronaldo, Roger Federer or LeBron James. More than anything, young people – who provide most sports bettors – tend to follow the favourite stars of India and the World.
Occasional surges in betting interest may be registered after national success stories like PV Sindhu's Olympic exploits or the Union men's and women's field hockey teams. These, however, are trends that cover wide demographics rather than narrow interest or age groups.
Betting Frequency Peaks in Lower-Middle Aged Punters
Betting on events and sports-related games is consistent in users under 36, between one and three times a week. The 37-59 age group might have a statistically lower penetration, yet it reports a higher engagement rate – nearly half of those play and bet more than four times a week.
Within the same middle-aged group, playing frequency decreases when income levels rise. Only 12% of those earning more than Rs 10 lakh annually play as much as their peers.
Fantasy Sports Growing in Importance among Youth
A high-profile grey area, fantasy sports are a legal paradox. Fantasy leagues, tournaments and gaming apps are known to be skill-based and are upheld by courts as such. Interestingly enough, their outcome is based on actual athletes' performance. This enables users to wager money on selected real-life players but not bet directly on real-life teams unless it's offshore.
Younger consumers are attracted by the flexibility and immersive nature of online fantasy games. Legal and open to anyone, they start like practice contests and grow into competitions with entry fees and prize pools. Many semi-pros are making a living out of this.
The huge visibility of the segment is due to its casual accessibility, image links to sports stars and affordable spending schemes – one can spend nothing, or bet as little as 50 rupees on a custom-made team or event. The industry now counts more than 100 million active users and covers anything from cricket to kabaddi, football or basketball. Dream11, the dominant player on the market, is big enough to endorse the IPL.
According to a 2021 survey, Indian gamers rate second in interest for fantasy sports (29%), in line with other emerging betting markets. This is almost as much as the willingness to bet or gamble (33%) or bet on eSports (30%). This brings us back to the leading role of younger adults who prefer a more immersive, all-around media and sports experience.
While fantasy differs from classic sports betting, it shares much of the user engagement and play dynamics. All sports are games of skill, after all, with chance playing only a small part. Bettors and fantasy players, in turn, often do their research, adopt a strategy or at least try to. 31% of responders claim that there are substantial similarities between "traditional" sports betting and fantasy wagering.
Those that find them alike do so on the basis of:
Knowledge and skill indispensable (55%)
Monetary aspect (68%)
Similar thrills (26%)
Even so, these novel sports games for money lack the huge outlay that classic sports betting enjoys in India. Sports bets remain bigger than music, TV and movies combined.
India Has a New-Age Mindset
The quick adoption of digital technology and fintech solutions makes the Union market a fertile ground for new gambling formats. A third of all consumers would gladly place more bets "if it were easier".
The search for alternatives – in a stagnant legal framework – has made betting on real sports and fantasy selections an interchangeable reality. Many users admit to playing both, in an attempt to get more thrills from competitive sports and be part of a star-studded media market.
Online betting traffic will always peak around high-profile events and games of national importance. However, the future of the industry is in more partnerships and cross-over genres in an attempt to convert passive viewers into active gaming and betting consumers.