Fan of Indian betting sites and sports betting? India has millions of punters who can't wait for top online IPL betting in India or major European football leagues online. It's a popular pastime in our country and quite profitable for many punters too. However, it can be a bit confusing for a newcomer. Online sports betting has a diverse cast of bets beyond the usual pre-match 1×2 bets.
Goal bets, point spreads, and live bets are just some of the types of bets you can place online with Rupees. However, there's one particular bet that seems quite complex, at least to new Indian punters – Asian handicap betting.
In the world of online sports betting, Asian handicaps are among the most unique options. Originally introduced in Indonesia in the early 21st century, it's a form of online betting that handicaps stronger teams when there's a massive difference in quality in a match. A form of spread betting itself, handicaps can range from a quarter goal to several goals and may also come in increments.
1×2 betting means there can be three outcomes to a match – a home win, away win or a draw. Asian handicaps eliminate the draw and leave only two possibilities. This means that you have almost a 50% chance to win your bet, although winning is not guaranteed.
If you like the best Asian handicap odds, make sure to check our list of recommended online bookies.
How Does Asian Handicap Work?
As you surely already know, the world of sports isn't equal. Sure, a derby between the Mumbai Indians and Chennai Super Kings is exciting, but for sports punters, such a match is tough to call. On the other hand, there's not really much betting value when the Indians play the Challengers. 
Strong teams often face inferior sides in terms of quality and they're big favourites for these matches. In fact, they are such big favourites that there's no point in betting on the Indians in this situation. Well, only if you bet on fixed odds. Add Asian handicap betting to the mix and bets will instantly skyrocket in value.
How? Well, by handicapping the stronger team, of course. Asian handicaps are usually used in football betting, although cricket and other sports are covered as well. This type of bet gives bookies balance in uneven match-ups so punters can follow an easier model of betting. It all sounds complicated and it is a bit more complex than 1×2 betting, but once you learn the basics, it's a type of bet you'll fall in love with.
Asian Handicap Full Lines
Let's put things into perspective. A superteam like Barcelona will always be a favourite against cross-city rivals Espanyol. The odds for Barca to win would be somewhere in the 1.20-1.30 area, so you won't be getting a lot in return. Enter Asian handicap. It's a great option for Indian punters as a Barcelona bet with a handicap of -1 would now raise the odds for a win to something below 2.00.
What does this mean? It means that Barcelona would now need to win by two goals. That's a scenario that could very well happen with Lionel Messi up front, but still a riskier bet than a straight Barcelona win. In this case, if Barca wins by 2 goals, you win your bet. If they win by 1, you get your stake back. If the Catalan giant loses or the match ends in a draw, you get nothing.
Of course, you can also place a bet on an Espanyol handicap like +2. In this case, the odds would be much higher and Espanyol would need to lose with a maximum of 1 goal for you to win your bet. If they lose by three or more in this case, you will lose your bet.
What Are Asian Handicap Half and Quarter Lines?
As mentioned, the world of online sports betting is quite deep and complex. Spread betting including Asian handicaps, is easy to understand with full lines, but what about half and quarter lines? Betting on full lines means playing on a whole number. When it comes to Asian handicap half or quarter lines, things are a bit different.
Half Lines
Half lines hold values that end with .5. They look like this +- 0.5, 1.5, 2.5 and so on. These lines give you even more options to win your bet. Using the aforementioned example, betting on Barcelona with a positive Asian handicap of 1.5 means you win your bet if Barca wins the match, it ends in a draw or if Espanyol win by a max of one goal. Here's a handy infographic to help you understand the same: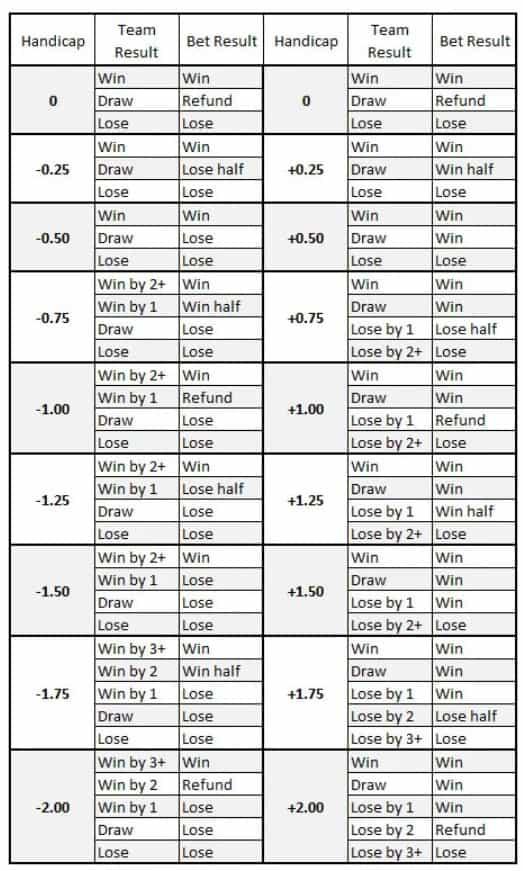 If the handicap is 0.5, the team you bet on has a 0.5 goal lead which means you get your money if Barcelona wins or the match ends in a draw.
The model is similar for quarter lines. These bets end in .25. Betting on Barca with a negative Asian handicap of -0.25 means that you'll win money if the Catalan giant wins the match. If Espanyol holds Barca to a draw, you get half your stake back. If it defeats Barcelona, you lose your bet.
Conclusion
The world of sports betting is quite exciting and offers plenty of value if you pick the right bets. The huge quality gaps in football, cricket or even tennis betting in India, for example, can easily be bridged by Asian handicaps. Instead of being goals oriented, the markets are more along 'Player A wins these many games at least.' Although it might look a bit complex to the untrained eye, all you need to do is practice.
Place an Asian handicap bet at any of the online bookies on our list and we'll sure that you'll love it.