Every year, Indians bet upwards of $100 billion on sports, an industry study reveals. The biggest entertainment segment in the Union is still mostly cash-based, yet accessible technology and new media formats make the digital transition more visible in the past few years.
Mobile phones have not only moved betting from back-alleys to online markets, they have also introduced new hybrid betting genres like fantasy and esports. The result is a lower player age but a wider demographic coverage.
The average Indian sports bettor is statistically a young male based in a big city. States that provide the most online betting traffic are those that have formally outlawed local betting practices, with Telangana, Karnataka and Maharashtra topping the charts.
With the growing importance of technology, desi consumers will be able to access more immersive sports content as betting becomes only one aspect of the experience. Younger generations are certain to bridge the digital divide between rural users and urban communities.
Why Some States Bet More on Sports than Others?
With the premise that online betting is easier to trace, it is easy to explain why larger and more developed states and urban areas provide consistent player bases. Tier-1 cities like Hyderabad stand out, followed closely by Bengaluru, Mumbai, Chennai, Pune and Delhi.
Yet, online betting communities are not equally distributed, even among larger urban areas. Young males keen on sports and money thrills are found everywhere in the Union but cultural acceptance and media exposure is not identical. Online traffic in Northern and Eastern states is considerably less per capita, given that large parts of these territories are more conservative. They are also more interested in football and remain outside the constant mass-media promotion of cricket, with all related industries and market effects.
On the other hand, market size does not always match betting frequency. Around 85% of urban bettors play between 1 and 3 times a week. Nearly 70% of small-city gamers, on the other hand, bet more than 4 times in a week, confirming the overall deep market penetration.
Telangana, in particular, stands out as the home of almost a quarter of all sports bettors on certain platforms! It is closely followed by Karnataka, with both states boasting a higher GDP per capita compared to Union average. Stable economies and sizable populations are also reasons to see Maharashtra and Uttar Pradesh among leading markets.
Other factors include:
Legal climate – bans placed on online gaming and betting in Telangana and Andhra Pradesh, with Karnataka as the most recent case. High Courts struck down limits on skill games at least, leaving fantasy sports open for business. Despite that, many fans and players began seeking online (and offshore) alternatives.
Habitual use of technology – startup hubs like Hyderabad and Bengaluru are prime examples of communities closely tied to digital technology. Young professionals favour innovation, global services and online markets. They provide a particular client pool, driving mobile betting, including pioneer advancements like cryptocurrency payments.
Expanding User Demographics
The ICC has calculated that India holds about 90% of the billion global cricket fans. Desi passion for sports betting is highlighted by its 140 million regular punters (a conservative estimate), with the number rising to 370 million during major events.
Such an immense user pool is inevitably diverse as Bharat itself. Even so, affordable smartphones and cheaper internet helped the penetration of new betting mediums and forms, bringing the market closer to global standards. With more disposable income, India's growing middle class has discovered the convenience and safety of betting online.
Most casual betters know the top ICC events like the World Cup and World T20. Many follow their regional cricket franchise or a "secondary" local team. But contemporary sport is expanding as a business model, aiming to engage users with advertisement, brands and sponsorships, contests and partnerships. This has given rise to new "hybrid" forms of sports betting like fantasy and esports – essentially wagering on the performance of star athletes or virtual franchises.
This immersive ecosystem of sports-related industries has had a positive influence on legal gaming. Novel games with entry fees offer prizes, promotions and merchandise, something that two-thirds of surveyed consumers – across all age groups – say they appreciate highly. Ultimately, games for money contribute to bringing all demographics closer to their sports passion. The potential monetary gain often provides only an extra incentive.
Essential Traits of Indian Sports Punters
Sports betting tries to stay below the radar in most cases, with industry data seldom publically available. Google Analytics data analysed at Bet India, however, reveals some basic demographics of nearly 70 thousand online bettors over a 16-month period up until October 2021.
Age cohorts – Not surprisingly, 18- to 24-year-olds have a dominant share of 41.7%. Together with users below 34, they generate almost three-quarters of all online betting traffic. Thirty-four is also the average age estimated by the ICC on a global scale, heavily influenced by the Indian market, of course.
Language used – Despite the fact that only 12% of India's population uses English interchangeably – and 70% of online users think local language content is more reliable – English still tops user language rankings.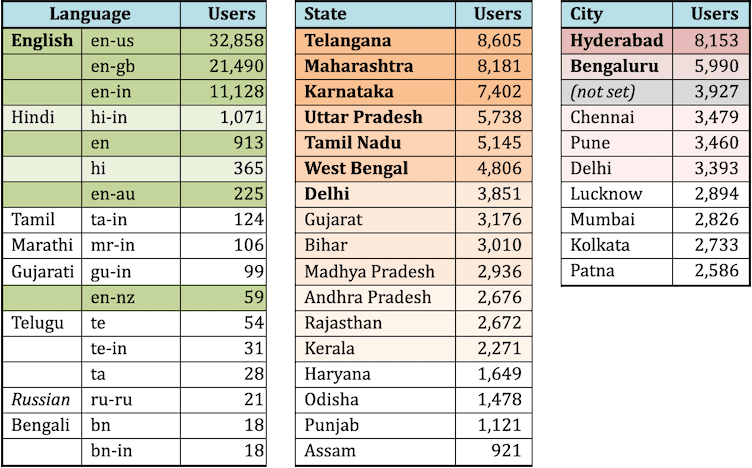 Naturally, Hindi is the second most-often selected language, while influential states drive up the shares of Telugu, Tamil, Bengali and Marathi. The best offshore betting platforms have already started offering such content and settings, albeit often computer-translated.
Disposable income – Overall, marketing studies have proven its importance in affording betting as a more regular pastime. However, when researchers narrow down behavior indicators, it turns out that more than 70% of people earning less than Rs 3 lakh per year have paid for sports games in the past year. Thirty-eight percent of the same group spend more than Rs 500 per month on fantasy sports alone.
High engagement levels lead experts to the conclusion that betting on sports is seen as a way of earning a supplementary income, especially by lower-income users. Belief in one's skill and knowledge are also factors in making genres like fantasy sports more popular than ever before.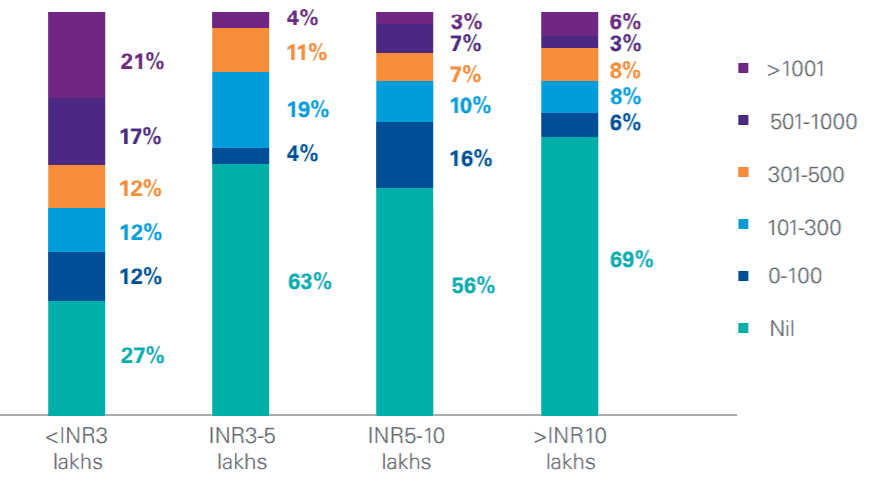 The study cites a survey in which 30% of all players admit to being motivated by monetary gains, while half of all those surveyed have played for money or bet on sports in the past year.
Devices – again, no surprise – mobile phones remain the top choice with 87%. Android is given at above 99% market share, with iPhones almost non-existent. Xiaomi has a commanding lead among smartphones (30.3%), followed by Samsung with 21%, Vivo, Realme and OPPO.
Gender Gap Not a Surprise
We expect to see males dominate the cricket fandom and global figures confirm that with 61%, mostly based in India. Bet India's own statistics show that when it comes to online sports betting, men outweigh women even more decisively with 84%. This is definitely not the case in other paid games (casual, puzzle or quiz) but being an avid sports fan is also a question of motivation.
Previous studies had shown that betting (or gambling in general) is an option for females when lonely or dealing with emotional issues. Males are more motivated by financial aspects but also by pressure from their peers – needing something to show in terms of knowledge, skill or cashing in a prize.
Vindicating Sports Betting as a Nationwide Phenomenon
Back in 2018, the Law Commission filed a report discussing the possibility of legalizing sports betting as a gateway to regulated gambling. Proposals included linking players' Aadhar and PAN cards to betting profiles as a way of gaining more control and insight into demographics, helping problem punters and keeping out minors.
No such proposals have been shaped into a bill so far. Sports betting continues enjoying tacit public acceptance, yet meets almost no legal approval domestically. All the while, industry surveys point to 83% of adults agreeing that regulating sports bets is better than outlawing the sector and surrendering to foreign competition and black markets.
Part of a wider Asian betting culture, sports-related games are associated with aspirational lifestyles and wealth, getting in touch with stars while having a thrill. Giving India's tech-savvy betting army a legitimate chance to show their skills, knowledge and strategy will only bring this immense market into the light.