Sportsbooks have evolved rapidly in the past decade, with offshore and mobile outlets becoming a mainstream choice for many desi punters. A recent in-depth study reveals some important market dynamics and projected trends in online betting:
Media-rich gaming offers gradually take over the scene, transforming audiences from passive to active users;
Emerging gaming genres – fantasy, esports and simulated reality leagues – offer the same motivations as classic sportsbook; they can complement or even substitute it;
Gradually, non-cricket sports and leagues get more attention.
Online sports betting continues growing as a preferred channel, fighting back underground betting. While unverified offshore platforms may not provide the best player support, the highly competitive market raises player expectations and ultimately quality.
Market Size and Social Significance
While only a couple of States have formally made sports betting legal, reportedly there are 140 million regular and 370 million casual punters in Bharat. The latter are active mostly around major sports events.
Experts agree that the legal climate is obsolete, on both state and Central level. The absence of proper regulation holds back economic benefits and raises social costs. Policymakers are often urged to introduce responsible gaming standards to help manage risk behaviour and help protect vulnerable bettors.
India's young and tech-savvy gamers have already taken offshore platforms to the mainstream. Yet, online sportsbook data is scarce, despite being the single most important real-money game. Mobile betting and apps add to the wide range of sportsbook choices, while cheap internet and affordable smartphones bring them everywhere.
Industry estimates place ODI betting at USD 200 million for a single match, while annual turnover (both online and off-) is given at anywhere from USD 130 billion to USD 150 billion.
Cricket is still the nation's top choice, and the IPL draws the most betting fans. However, search trends suggest that brand names and global stars dominate the market, drawing media and advertisement attention.
The Biggest Leagues in Sports Betting
Primary research data from Pure Win sportsbooks reveals India's favourite sports leagues. Peak betting trends confirm that the tournaments which get extensive media coverage top the betting list: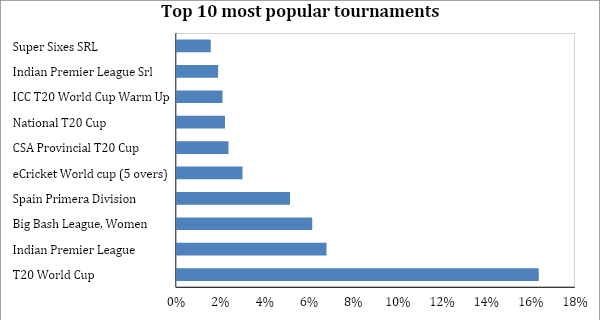 The IPL – particularly the playoffs and final games – is surpassed only by international cricket. The T20 World Cup draws the most online betting traffic. Among foreign leagues, the South African and Pakistani tournaments get a decent ranking, while the Women's Big Bash League of Australia does surprisingly well in the absence of men's BBL and other real-time events.
Outside of "traditional" sports and leagues, the high betting demand spills over into football, mostly the Spanish Primera and the English Premier League.
Most Popular Bet Types
Bet-slip data shows that Indians prefer mostly single-odd bets – clearly a low-risk/low-reward strategy. This is also supported by the fact that the most frequent amount is 500 rupees (~5 euro). Actually, two-thirds of bettors end up committing sums under Rs 1000, and only a small number of high-rollers drive up average statistics – slightly above Rs 6800 per month (~80 euro) per player.
Live Bets Prevail
Betting patterns and activity lets analysts trace player behaviour, over time and within a State. Andhra Pradesh and Telangana sit on top of total player rankings, with Delhi close behind. AP also records the highest monthly revenues, while Maharashtra and Haryana post consistently high player values.
Cross-referencing over time, we see several peak months for sports betting. IPL bets peak in April and, in 2021, in late September and early October. High traffic volumes carry over into October and November, mostly related to the T20 World Cup.
In a particular Covid-affected betting season, Indians remained active in July and August as well – there were the Euro football championships, Copa America, Wimbledon, the NBA Finals and the Tokyo Olympics. Media coverage and betting behaviour confirm conclusions on the importance of global stars and their following.
The fact that the majority of bettors follow high-profile events and remain active during matches is confirmed by data showing 79% of all bets being placed live. Even occasional punters are tempted by the hype and monetary potential in such a context, especially when Team India is playing.
Brief Profile of a Typical Desi Bettor
Player demographics and other traits are also available by segmenting big data. Maharashtra and Delhi lead in overall user volumes, while Bihar, New Delhi and AP show the highest shares of sports betting engagement among real-money gamers.
| State | Share of Active Sports Bettors |
| --- | --- |
| Andhra Pradesh | 26% |
| Bihar | 33% |
| Delhi | 13% |
| Gujarat | 15% |
| Haryana | 23% |
| Karnataka | 11% |
| Maharashtra | 18% |
| New Delhi | 30% |
| Rajasthan | 12% |
| Tamil Nadu | 18% |
| Telangana | 23% |
| Uttar Pradesh | 14% |
| West Bengal | 20% |
Source: Purewin.com
Sportsbook tops turnover lists only in Bihar. Yet, a state-by-state breakdown shows that sports betting remains the single most preferred money game in 11 States (AP, Bihar, Chandigarh, NCT Delhi and New Delhi, Gujarat, Haryana, Maharashtra, TN, Telangana, UP and Uttarakhand).
Overall, almost 70% of gamers are under 34, including casino players. Sports bettors confirm that profile, as engagement dips in young middle-aged users and recovers with age and more disposable income.
As per previous industry research, the biggest betting communities come from metro areas – i.e. Delhi, Mumbai, Bangalore, Chennai. Younger males define market demand, in cricket and other sports betting markets.
Office-hour events and bets raise somewhat the share of desktop usage. Still, mobile betting is unparalleled, with Xiaomi the expected leader, followed by Samsung. Android phones remain above 95% among desi mobile bettors.
Emerging Forms of Sports Betting
Just like "classic" offline sports betting has been upstaged by online and offshore channels, a growing number of betting alternatives shape a new-age market. Mostly skill-based (and therefore legitimate), Fantasy sports and eSports have gained a substantial following. Sponsorship deals raise public visibility, draw more media interest and make up for a more active sports experience.
Both fantasy and esports compete with real-life events at times. eCricket, FIFA and NBA esports events and fantasy leagues attract professional and semi-professional players, with more live betting and league prize pools than ever before. Virtual events cover "dead" times between major leagues and games are shorter, easier to follow even live.
The research piece concludes that motivators for betting on hybrid real-money gaming genres are the same as classic wagering – money, thrills, game knowledge and sports engagement. Younger generations appreciate the flexibility and immersive nature of digital sports, bringing active players from 40 million in 2018 to over 100 million currently.
Simulated Reality Leagues (SRL) are the latest addition to cross-over gaming. What was initially invented as a virtual replica of European football leagues (the Premier League, the Italian Serie A and La Liga) took root in cricket as well, with the Super Sixes SRL a major success.
Simulated fixtures offer result tracking via a computer-generated live score. The real-time outcome is based on actual statistics, rules and even factors like player form and weather conditions. They have turned into yet another potent engagement tool, providing more betting chances for gaming enthusiasts.
Projected Betting Market Trends in India
Sports events and gaming chances abound for desi bettors, more than ever before. New forms of hybrid betting are based on skill and aim for legal recognition from the start. This puts India on top of emerging markets' support for immersive sports experiences and mobile gaming services.
Online betting on real-life events remains dominant, nevertheless. The money involved, player knowledge and judgment skills, friendly competition and bragging rights remain a cornerstone in sportsbook popularity. The convenience of mobile access has brought all betting genres together into an absorbing integrated experience.
Sports fans are often bettors, and most want to be a part of the glamorous world of sports stars. This facilitates business opportunities, media and advertisement coverage, converting desi users from a passive audience to active consumers.
Virtual and hybrid betting is expected to become a more mainstream product, propelled by the largest and youngest user groups (18-24). They are also likely to open up the market to global leagues and more diverse sports outside of cricket, a trend that has already become unstoppable.
In all of this, policymakers need to think about consumer protection, privacy, financial and digital security. The absence of proper regulation holds back the betting and gaming sector and does more harm to an immense pool of users from all across India.