Archery betting sounds quite straightforward, right? You just have to correctly guess where the arrow will strike or what will be the total points tally by the end of the round. However, in this quaint little city of Shillong, archery betting or Teer takes a whole new meaning.
At Bet India, given our tendency to explore new, exciting, and responsible ways to bet on sports, we decided to research Teer in detail and see how we can enjoy this sport!
Betting and Lottery Combined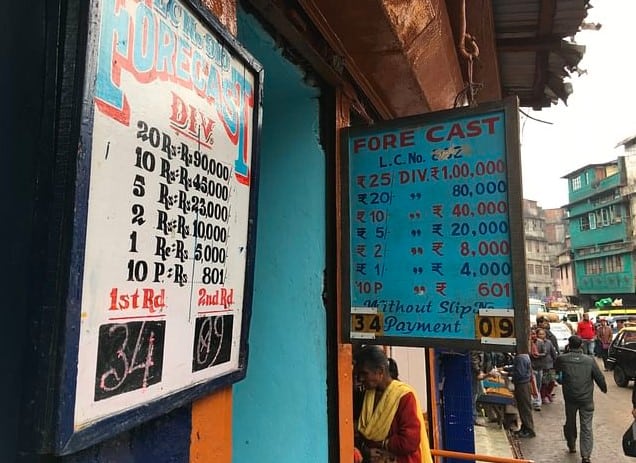 In Shillong, it is more of an archery-based lottery where people across the city buy tickets throughout the day from licensed operators. These tickets are sold from 10:00 am to 3:30 pm and the person buying them has to make their pick between 0 to 99.
The results of the teer are announced at 3:45 pm and 4:45 pm every day, with the payouts going up as much as Rs.80 for every Re. 1 that you wager.
In fact, the entire city of Shillong is full of these archery betting counters. So, along with some delicious momos and amazing street food in Shillong, you will also find yourself being constantly surrounded with punters looking to bet on this unique sport.
This happens pretty much every day of every week so you will never run out of options to keep yourself entertained.
Here's how the lottery works
The actual archery event takes place in the Khasi Hills Archery Sports Club in Shillong every day at 3:30 pm. 50 archers from 12 archery clubs – all of whom represent the Khasi tribe – shoot 30 arrows each at 3:45 pm in the first round and another 20 arrows at 4:45 pm in the second round. In other words, a total of 2,500 arrows are shot at the target. (These numbers can vary depending on which variation of the teer lottery you're playing.)
The wager here is made on anticipating the last two digits of the total arrows that hit the target. For instance, if these 50 archers hit a total of 1,450 arrows at the target, then the winning number for the lottery will be 50, that is, the last two digits of 1,450 and so on.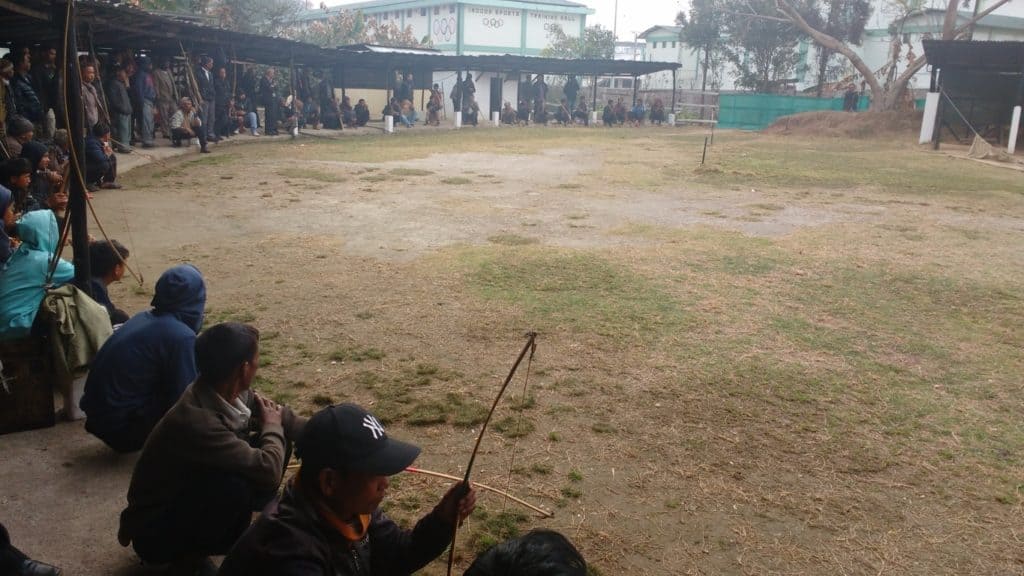 It is quite interesting if you think about it – you are not betting on an archer, per se. You are betting on a bunch of archers, hoping that they hit just the right number of arrows for you to win. It's just like a regular lotto, except the winning numbers are decided by the accuracy with which a group of archers hit the target.
Payoffs
The round one payout is up to Rs.80 for every rupee while the second round payout is up to Rs.60 for the same. If a person correctly predicts the winning number for both the rounds, it is called a forecast and the payout here can be up to Rs.4,000 for every rupee wagered.
The lottery takes place across the state with minor variations in the rules of the game. For instance, as per the Act, the total number of arrows used by each archer in each round should not be less than 30 and more than 50. There are also specifications on the size of the target, how much time each round should take, payouts, and other details.
Picking Numbers from Your Dreams?
Another interesting fact about this teer betting in Shillong is the way locals pick their numbers. Since it's purely a lottery, people have devised their own way of picking their numbers – by interpreting their dreams!
That's right, symbolism is a massive thing in Shillong – instead of picking the numbers willy-nilly, it is said that you should pick your numbers based on the dream you had last night. Even if you are unsure of what numbers your dreams imply, just ask the person at the ticket counter!
For example, if you dreamt of a man last night, the number is 5; for women, it's 6. If it is an erotic dream, the number is 17 – I wonder how many people bet on this number on any given day, but I digress.
Similarly, water implies 7, dead people imply 9 and anything that is round is supposed to be 0. In fact, you can find some of these 'dream numbers' right here:
| Dream Concept | Numbers |
| --- | --- |
| Eating | 01, 02, 05, 15, 16, 45, 75, 85, 95 |
| Erotic Dream | 17, 40, 53, 59, 60, 83 |
| Travelling | 08, 14, 18, 52, 64, 68, 74, 78, 98 |
| Money | 00, 14, 15, 20, 25, 35, 50 |
| Travelling in an aeroplane | 23, 43, 53, 63, 68, 73, 83, 93 |
History of Teer Archery Betting in Shillong
For the longest time, archery has been a conventional way for Khasi people to pass time. They belong to an indigenous ethnic group in the Meghalaya state and do form ~50% of the entire state's population.
Archery had always been a quintessential sport for the Khasi tribe for centuries. However, it wasn't until the 70s that the local folks started wagering on the game among themselves. When the government back then realised what was going on, they immediately banned the teer betting across Shillong.
Appeals were made in the high courts but the ban was not revoked. Ultimately, people took to cornfields and countryside, away from the law, to bet and continue playing their favourite sport.
Massive tax potential in teer betting
The local government in the late 70s realized that teer betting can be a good source of income for the state. It is also worth mentioning that Meghalaya was still a relatively new state back then as they looked for ways to improve the local economy.
Ultimately, in 1982, the Meghalaya Amusements and Betting Tax (Amendment) Act 1982 was passed that allowed for teer betting to take place in the state. As such, the entire operation is regulated by this act, including the sale of the tickets by licensed distributors, taxation on the winnings, and anything else that falls in between.
The legalisation of this has definitely aided the local economy and the people. The additional taxation income has helped the state government tremendously in developing the region while ensuring that the betting is done right, well within the legal boundaries. Furthermore, by ensuring that the tickets are sold by licensed operators only, the room for illegal/backroom activities is practically zero.
On any given day, lakhs of rupees are changing hands and it's not just in Shillong – bets over the phones are placed from all across the country, including from as far as Mumbai.
There are some punters who prefer betting big amounts on a number, leading to massive payouts and commissions. It is not entirely clear how much money is moved around within this sport, but it is certainly a pretty massive amount!
Teer betting and the local economy – It's a big employer!
Across the state of Meghalaya, there are over 5,000 betting counters that sell teer betting tickets on any given day. In total, they are responsible for providing livelihood to over 10,000 people – mostly those who operate at these counters.
Since there is a dearth of government jobs and proper development in the state, many people find themselves being supported by teer betting.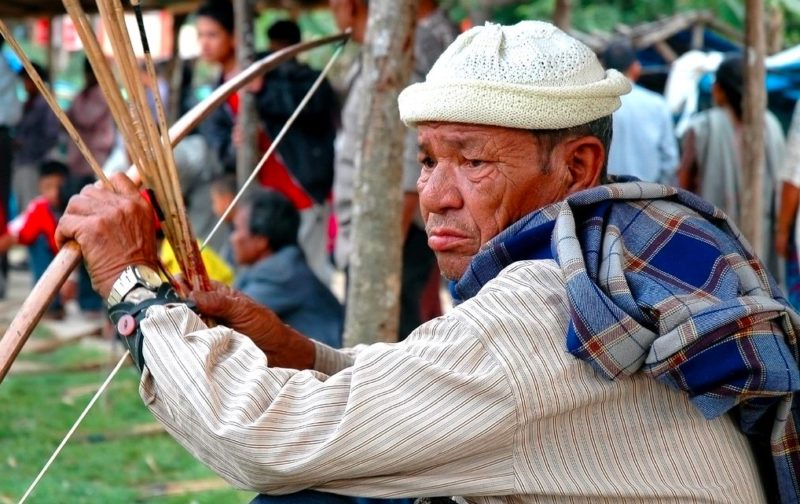 As we just saw, legalising the sport has certainly played a big part in all of this.
People can make anywhere up to Rs.300 – Rs.500 per day and more, depending on the size of the tickets and the volume of people purchasing them. Similarly, the Khasi archers – the folks responsible for shooting the arrows and making people's dreams come true – are paid up to Rs.500 per day to do their 15-minute task.
Bet big, win big
So that's about it, folks! Next time you find yourself in Shillong, do give this legal archery lottery a try and be sure to pick your numbers after interpreting your previous night's dreams. With payouts as high as 80:1, 60:1, and 4,000:1, this has the potential to make anyone's dreams come true.