Betting on professional sports is a sensitive subject in India – hugely popular yet hard to come by legally, with some notable exceptions. Betting enthusiasts often seek alternatives, whether online or black-market. Due to gaps in existing regulations, offshore gaming companies manage to satisfy some of that demand but only a few show a deeper understanding of desi consumers.
Over the past decade, sports and betting fans finally got to see some hybrid and innovative gaming genres. Fantasy sports grew into a strong segment, as virtual competitions follow real-world sports and combine what bettors value most – the thrill of money gaming and the passion for one's favorite sports. Crucially, it's all legal and you can show off to your friends and colleagues.
What's the Difference between Sports Betting and Fantasy Gaming
Horse racing is a notable exception to betting bans, as it has been recognized to employ skills in judging the outcome of races. This distinction from pure chance wagering is at the foundation of legitimacy for other real-money games of skill as well.
Traditional sports betting is a widely accepted social phenomenon in India. Yet, despite players' conviction that it also requires specific knowledge and judgement, it is not regulated as a skill-based game in most states. Most sports betting is done online, as there are either no explicit laws against it in the majority of states or there are no known arrests for that kind of pastime.
When traditions become obsolete, however, market logic often takes over. Fantasy sports have been recognized as predominantly skill-based, ever since the early days of their existence. This has opened the possibility of paid sessions, prize pools and other real-money contests that depend somewhat on a gamer's ability but a lot on events outside their control.
The paradox is in the very essence of fantasy gaming: real-world match outcomes are based on actual performance of athletes and fantasy teams are merely a selection of such professional sports people. As a result, betting enthusiasts can assemble fantasy teams and enter into leagues – wagering their money in the process – but they cannot bet directly on existing real-world sports teams of their choice.
Fantasy Sports – a New Generation Online Betting
The legitimacy, easy access and media visibility soon made fantasy into a product that is almost synonymous with actual sports. High-profile agreements with professional leagues were signed and global sports stars soon joined the party. India loves its cricket idols – Sachin Tendulkar, Kapil Dev, MS Dhoni, Sourav Ganguly, Yuvraj Singh… to name a few – and their endorsement has done much to make fantasy gaming a glamorous gaming segment.
Dream11 became the nation's first gaming unicorn (boasting a dominant position in the niche) and even took over the IPL title sponsorship. Fantasy gamers grew from 40 million in 2018 to over 100 million in just a couple of years, while other sports gradually joined cricket – football, basketball, even kabaddi.
There are more than 100 fantasy gaming companies operating on the market, as well. The Federation of Indian Fantasy Sports (FIFS) is eager on self-regulation but is not pushing for a change in the legal scenario too much. Fantasy gaming is on the rise and the business has been repeatedly supported by High Court and Supreme Court rulings.
Fantasy sports are considered a hybrid betting gateway for a number of reasons. For one, players spend money while playing casually. Often, they watch the game or follow a live result to see how their "bet" is progressing. But it is also a turn-based strategy, particularly with leagues and competitions that span across a season or a series.
More importantly, player engagement is almost identical and most players agree that there is a strong correlation. Younger generations find the dynamics, flexibility and immersive nature of fantasy sports more attractive than "static" sports betting. Above all, it is legal and you can start with free sessions before deciding whether to play for money.
At the end of the day, fantasy leagues and competitions are exploited as an engagement tool by sports franchises, media and other seemingly unrelated companies as well. Revenue streams include advertisements, brand partnerships, contests, retail and investment opportunities. The network effects that fantasy genres create around the sports ecosystem helps passive viewers become active users.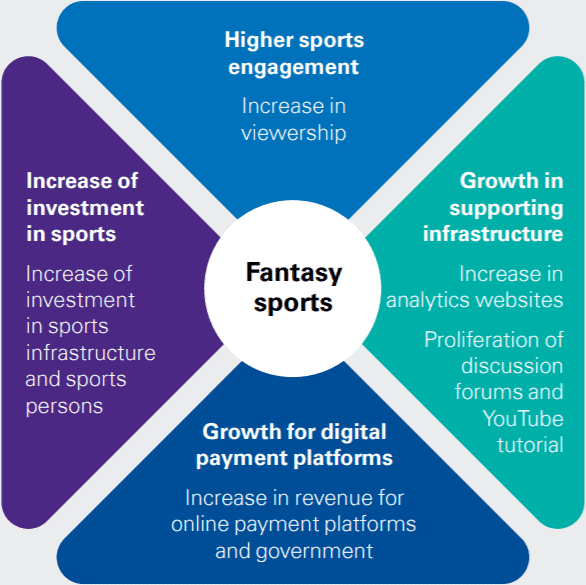 Spillover Effects
As fantasy sports grew more visible, fantasy startups grew bigger and created a fertile business climate around their business model. Dream11 is still the undisputed market leader (valued at USD 5 billion in 2021) but other competitors are getting increasing media coverage. MyTeam11, Halaplay, 11Wickets and others have followed suit and have partnered with professional leagues from around the world – the NBA, the CPL, the International Hockey Federation. The IPL even runs its own official fantasy league!
The positive impact of fantasy sports is helping build up the credibility of the entire online gaming sector. Next generation real-money games are looking for other branches and cross-over collaborations to exploit the legality of skill and casual gaming and still be able to invest into paid gaming.
By openly sponsoring fantasy, cricket stars and global sports idols have had a positive social impact on real-money gaming, aiding public and political acceptance. Various leagues and franchises, in turn, have seized the chance to deepen engagement and bring their fans closer to the sport. And where passion is not enough, monetary gains sweeten the deal.
Player Profiles and Public Awareness
While there has been a significant rise in popularity, online gamers are more aware of fantasy sports in the North (69%), followed by West (67%), East (66%) and South states (64%), according to an industry study. US research reveals that once sports fans evolve into fantasy players, they consume up to 80% more sports-related content.
KPMG India confirms that fantasy sports gamers in India prefer cricket (71%), followed by football (54%). Almost three quarters of surveyed gamers admit to being in it for the "fun and excitement", as well as staying in touch with the sport. Using sports-specific knowledge stimulates roughly half of all players. The possibility of winning money remains important, and is the leading motivator for 30% of fantasy gamers.
Younger users (18 to 36) typically play between one and three times a week – that is the case for more than three quarters within the group. Middle-aged players (37 to 50) may have about 50% frequent gamers but they play more than four times a week.
More than 70% of all gamers earning less than Rs 3 lakh annually have paid for sports games in the past 12 months. 38 percent of those spend more than Rs 500 per month. Playing frequency and wagered amounts fall in higher income groups, particularly among those earning more than Rs 10 lakh per year. This leads experts to stress the importance of money gaming as means for earning supplemental income for lower-income players.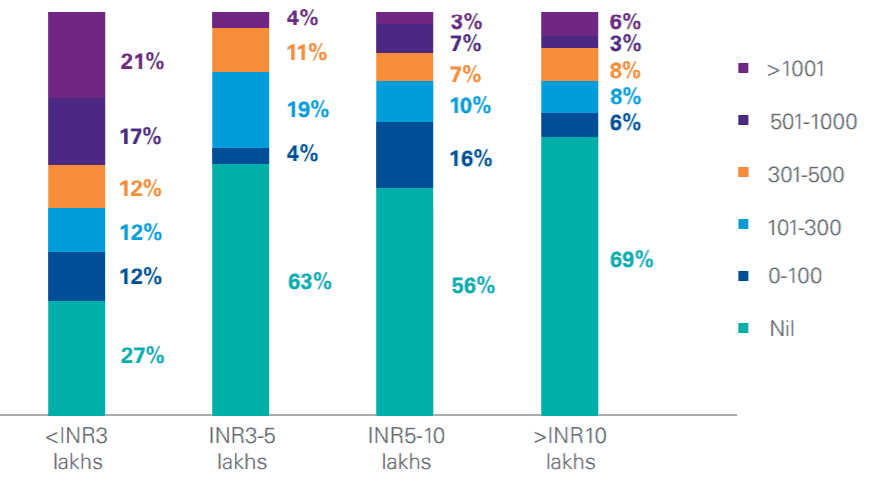 Although most urban gamers play fantasy less frequently (1-3 times per week) than urban ones (above 4), the majority of fantasy sports enthusiasts come from larger cities. But, across Bharat, a deep penetration of online gaming is on the cards, possibly beyond old-fashioned sports betting.
The trend makes India stand out among other emerging markets – sports gaming for money interests 29% of surveyed adults. Similar shares are reported on classic gambling (33%) or eSports (30%), showing a nation that gets used to tech innovations quite easily. More than two thirds of adults agree, ultimately, that the money and thrills are similar to sports betting and justify fantasy sports as a worthy legal substitute of sports betting (when the latter is not available).
What Lies Ahead for Fantasy Sports Betting?
Coming up with a progressive and effective regulation for online gaming might not be an easy task for Indian legislators. The evolution of technology and the dynamic market competition might require constitutional amendments and telecommunication regulations, with authorities often destined to play catch-up with market forces.
But until the Centre decides to act upon the Law Commission's 2018 suggestions on legalizing sports betting, desi players have simply put their trust in reputable offshore and online platforms.
The digital transition is there for us to see all along – younger generations take up new gaming genres; augmented reality and immersive technologies bring them closer to the sports and stars they love; rural users quickly catch up with their urban counterparts.
In this context, fantasy sports have taken advantage of affordable mobile technology and mass-media coverage to convert sports fans into active gamers. For many, their fantasy team is like following an actual professional team. Gamers put in their knowledge, passion and some money and come out with thrills, first-hand experience and often some cash or bragging rights.
As most betting companies struggle with legal hurdles, India remains low on channeling players to local businesses. Having found an exciting legal alternative in fantasy sports, experts anticipate that novel gaming genres will grow even more in coming years.
Tech startups, domestic or foreign, are likely to offer even more betting chances on fantasy, esports and simulated reality leagues (SRL) to those who simply cannot get enough of their sports passion.