ATK vs FC Goa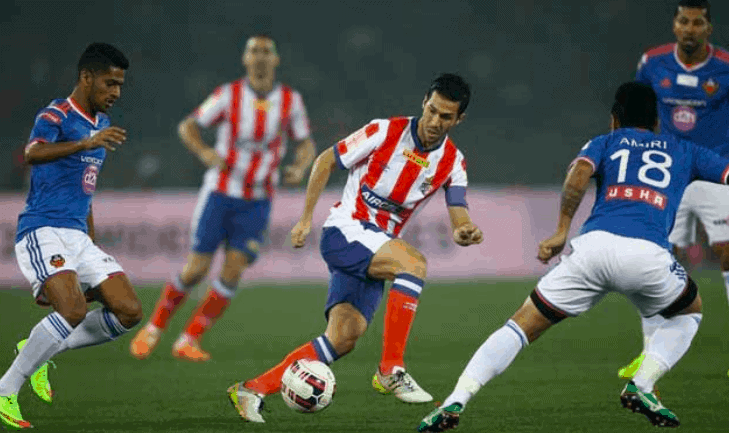 2 exciting weeks have passed by in the new month, year and decade. The Indian Super League has picked up its pace since the beginning of January.
ATK vs F.C. Goa Betting Tips and Predictions 2020
Big teams, crucial matches, much-needed points and thriller performances have encircled the ISL since the beginning of the month. Another exciting weekend match awaits us as F.C. Goa head to the fabled Salt Lake City Stadium to face ATK.
The match is going to be the one to watch. As number 1 in the league, F.C. Goa take on ATK ranked number 3 in the latter's home ground, the tensions will be high. In this article we at Bet India wish to provide you with more exciting updates, betting predictions along with important football betting tips. The kickoff will take place at 7:30 p.m. on Saturday, 18 January 2020.
Match Facts
ATK is currently placed third in the Indian Super League with 21 points. They will need to match to take F.C. Goa's place in the first position.
In a head-to-head basis, ATK has not beaten F.C. Goa since the 2016-2017 season of the ISL. In the previous 8 matches, there have been 2 draws. ATK has won 2 times whereas F.C. Goa has sealed the win 4 times.
ATK's home record is mediocre at the moment. Lacking consistency, they have managed to win 3 of their last 5 matches. On the other hand, F.C. Goa's record at away has not been at the top either. In the last 6 games, they have won 3 games, drawn 2 and lost 1.
The number of goals F.C. Goa have scored in their 12 matches is 25 and just 4 more than ATK's 21.
If compared with regard to their last matches played, F.C. Goa has shown a better performance than ATK overall. With 5 wins in 7 matches, ATK is at a disadvantage with just 3 wins in 7 matches.
ATK vs F.C. Goa Betting Tips and Predictions
ATK will have an upper hand in this upcoming fixture with a home ground advantage. However, considering the previous head-to-head statistics, it will not be surprising to see F.C. Goa take the win. Given that most betting operators have placed equal odds on either team winning, one can only wait and watch.
However, ATK will have to play harder and smarter if they have to secure first place in the Indian Super League. Winning this match will be crucial for either team at the moment as F.C. Goa will look to secure their top spot with a win in this match. There are many factors to consider and many markets to bet on when it comes to this game.
Here are some of our operators and the odds which they are offering under different markets:
| | | |
| --- | --- | --- |
| Bet | Odds | Site |
| Match to end in a draw | 3.20 | LeoVegas |
| ATK to lead in both halves | 9.00 | 888sport |
| Number of goals to be an odd number | 1.86 | 10cric |
ATK League Form: L-W-W-D-L
ATK was a top team in top form during the initial stages of the league. However, in their recent matches, they seemed to have dropped the ball, literally. Given their stats, winning only 2 of their last 5 games has not served well to the team chemistry or morale.
At the moment, ATK is placed third in the league, just below Bengaluru F.C. who are just one point ahead. This could be a chance for them to reclaim their top spot even if they win the match by 1 goal. The 'Goal Difference' with ATK and F.C.
Goa remains equal at 11. ATK has recently acquired an 80% stake in the fabled Mohun Bagan club who are more than a century old. This association will play a huge factor amongst the fans and the environment in the stadium on Saturday.
An ill-tempered clash between ATK and the Kerala Blasters resulted in the former's first loss at home. This upcoming fixture will be a fight to the finish in order to reclaim top spot. Another major factor playing an important role will be the AFC Champions League main round spot opening.
This spot is only reserved for the top of the table. With captain Roy Krishna and a possible return of Australia's David Williams, the table can turn for F.C. Goa.
Key Players
Roy Krishna, the captain will have an important role in this match to lead his team by example. The possible return of David Williams will certainly help the cause given his experience in the field.
Edu Garcia who has been performing spectacularly with the ball at midfield must be at the top of his game. With his scoring capabilities and the wonderful opening header against Bengaluru F.C., the team will look to him for making plays and executing them. Prabir Das and John Johnson at defence will be playing key roles in the match keeping F.C. Goa's forwards at bay.
F.C. Goa League Form: W-L-W-W-W
F.C. Goa has been in top form since the past few matches which they have played. After the much-needed win against NorthEast United F.C., the team looks more reserved and stable with regard to all aspects of their game. Their loss to Bengaluru F.C. set them back and now they are back on their feet.
F.C. Goa will look to keep their hard-earned top spot in the league. Even though that spot is hanging on by a thread, this fixture against ATK will be a close call to reserve their spot in the AFC Champions League as well. With Bengaluru F.C. being in the second spot, both these teams will need to outperform one another to keep each other at bay.
However, in this fixture, F.C. Goa cannot afford to concede any goals. If they do, the goal difference which is already equal to that of ATK will give a huge blow to their spot in the league. Veteran players in the team will need to be at their top form to help the team be in the driver's seat against ATK.
Key Players
Ferran Corominas has been a key player for F.C. Goa for the last few matches understanding each play and creating chances to score. Along with him, the midfield was beautifully managed by Brandon Fernandes and Mandar Desai.
These players have contributed extensively to create plays and help their star player Hugo Boumous score goals, despite being a midfielder. The gaffer, Sergio Lobera seems confident in his players given the record of their past performances against ATK.
Where to Bet on ATK vs F.C. Goa
As this will be a crucial match in the ISL, the markets for the game are running at the top sportsbook operators in the betting world. The odds which are given for each team to win are rarely the same, however for this match, it is exactly the same. With unpredictability being a key factor in this game, all one can do is wait and watch.
We at Bet India have provided you with a list of betting sites offering the best odds on different markets in this game. If you bet smart, you win big!
| | | |
| --- | --- | --- |
| Bet | Odds | Site |
| Match to end in a draw | 3.20 | LeoVegas |
| ATK to lead in both halves | 9.00 | 888sport |
| Number of goals to be an odd number | 1.86 | 10cric |