Looking for a Bundesliga Refresher? We Got You Covered!
German top-flight football returns this weekend and there's plenty to look forward to including a big game in Schalke v Dortmund.
But what did the table look like before the break? What are 'ghost games'? And which former Chelsea star turned whistleblower?
Read on because all the answers are coming up!
Where to bet on the Bundesliga matches
We're stocked to see the return of football and can't wait to do some much-earned betting on the Bundesliga!
So, if you're the same – get straight to it at one of these top betting sites.
11 weeks later…
11 weeks separate the last time we had a Bundesliga match and the next one, taking place this weekend, at last!
After lengthy negotiations involving everyone from Angela Merkel to the leaders of the different German states, doctors, TV men and team owners, the Bundesliga was given the green light to go ahead and restart.
This is the first major football league to return.
When does the action start again?
Four matches kick off proceedings at 19:00 IST on Saturday, including the mouth-watering Dortmund v Schalke.
We'll have a betting preview of that one here on site nearer the time, as well as a look at Union Berlin v Bayern Munich on Sunday afternoon.
Where were we?
Before the enforced break, Bayern Munich were doing what Bayern do.
After a poor start to the season that saw their manager sacked, they went on a run of 10 wins in 11 matches to catapult them to the position of league leaders on 55 points, four points clear of Borussia Dortmund.
In third place are RB Leipzig, conquerors of Tottenham in the Champions League no less, on 50 points. Borussia Monchengladbach are fourth on 49.
Will Bayern win then?
The online football betting odds suggest Bayern will go on and win it but it may not be that straightforward. Their coach Hansi Flick has done a fantastic job so far but this is where things might get tough.
They're virtually guaranteed to go through in the Champions League against Chelsea (we're assuming the European competitions will be completed). So they will have a big European campaign to also worry about, while Dortmund are out of Europe after losing to PSG and can focus just on the Bundesliga.
The key game in the Bundesliga season will be Dortmund v Bayern on May 26.
A win for Flick's boys and it's Bayern's to lose, a draw and it's 'as you were'. But a home win for Dortmund would really set the cat among the pigeons.
The Bundesliga's hitmen
It's not just for the league title that the battle could go to the wire.
Bayern's Robert Lewandowski (25 goals) and RB Leipzig's Timo Werner (21) are also in a tussle between themselves to end as the Bundesliga top-scorer.
Is a Jadon Sancho transfer a possibility?
In third on 14 goals is Dortmund's English winger Jadon Sancho.
He's not in contention for this award but he's certainly in contention for a huge move at some stage with the likes of Manchester United, Liverpool and Barcelona all rumoured to be desperate for his signature.
The big-money move may have to be put on hold though with the Coronavirus situation meaning there's unlikely to be massive spending in this transfer window.
Erling Braut Haaland – a start in the making
Another player grabbing plenty of headlines is Erling Braut Haaland.
Having scored 16 goals in 17 league appearances for Red Bull Salzburg to go with eight Champions League goals, he carried on from where he left off after joining Dortmund in January.  H
e netted a barely believable eight goals in his first four matches for Dortmund and then added another four, including a brace against PSG in the first leg of that Champions League tie.
Not enough to save them from crashing out but enough for everyone to take note that this is a superstar in the making.
Ghost games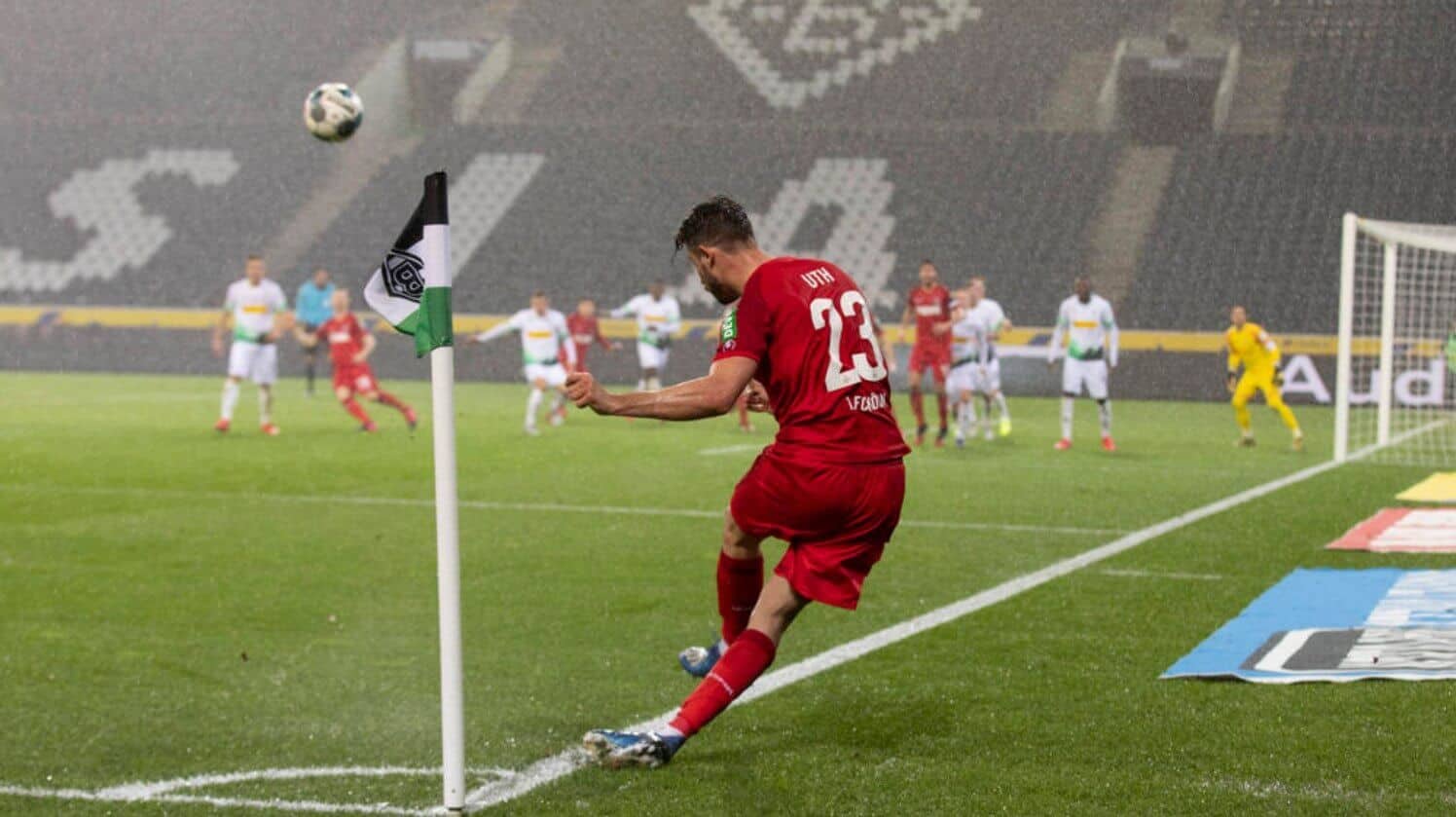 Did we forget to mention that the games will be 'Geisterspiel'?
That's 'ghost games' to you and me: matches played behind closed doors with no fans.
Since the resumption was announced measures were put into place to make sure everything was as safe as possible, including players being regularly tested, no tackling allowed in training sessions and strict hygiene rules.
Or were they?
Salomon Kalou, once of Chelsea and now at Hertha Berlin, filmed a training session and broadcast it on Facebook Live showing tests being taken without protective equipment, players and staff shaking hands and a  general lack of social distancing.
Scandalously, Kalou got suspended by Hertha and the Bundesliga called his posting of the comment 'unacceptable'. Quite why a footballer should be punished for exposing a dangerous disregard for safety is hard to understand.
The general consensus is that the desperation to get the Bundesliga restarted was purely down to money with lots of Bundesliga clubs on the verge of bankruptcy after a loss of revenue through no ticket sales, lost sponsorship and not getting priceless TV money coming in.
Having called the league off would have resulted in some of the clubs going out of business for good…
It's not perfect…but it's back
The Kalou incident was a stark reminder that football being back isn't without its challenges at best, dangers at worst.
The sight of empty Bundesliga stadiums will be a weird one, especially given that this is a league known for its passionate support and packed stadiums.
As an example, no team in European football has a higher average number of supporters at home games than Dortmund.
There may also be some inevitable rustiness among the players after the lay-off. But hey, at least it's back.
Remember to come back over the next couple of days to read our expert Bundesliga previews of those two big matches.