FREE MONEY!!
Ok, great! Now that I have your attention – we at Bet India will be giving out free money for the duration of IPL 2021. Sounds good, right?
So, how does this work and what's the catch? Read on to find out!
Last year I gave out over Rs. 13,000!
How to get your money
In order to claim the bet winnings, there are a couple of things you need to do.
First off, you will need:
Why do you need these?
You need these because I will transfer your winnings from my 10CRIC account to yours! 10CRIC have generously allowed us to request a funds transfer for the IPL to let us share the winnings with you.
As for Telegram and WhatsApp? I will post daily predictions on Telegram and you will need to contact Bet India on WhatsApp with a special secret code.

The BEST Betting Site in India!
Cricket & kabaddi betting
Fast Paytm Withdrawals
Local Indian Brand
How does it work?
It's so easy!
I post daily predictions
I post the articles to Telegram
The prediction article has a code hidden in it
If my HOT BET wins – I give away 30% of it
Send code to me after the game ends on WhatsApp
The first 5 people to send the code win!
See how easy that is? I have definitely had a harder time getting money before.
Here's what you need to send
In order to transfer the money to you, I will need to know a few things:
Your 10CRIC username & email
Your Telegram username
The secret code
You can send them in that order in one message, here is an example: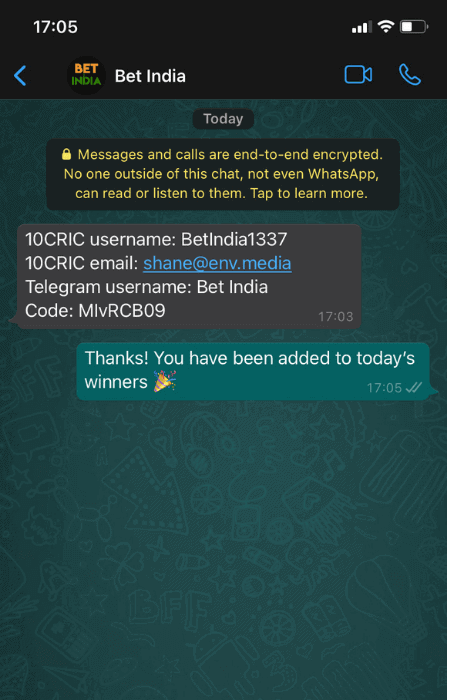 Where is this secret code?
Ah, well that's a secret! No, I'm joking. It will always be in the same location in the prediction articles. See the below example from RCB vs MI.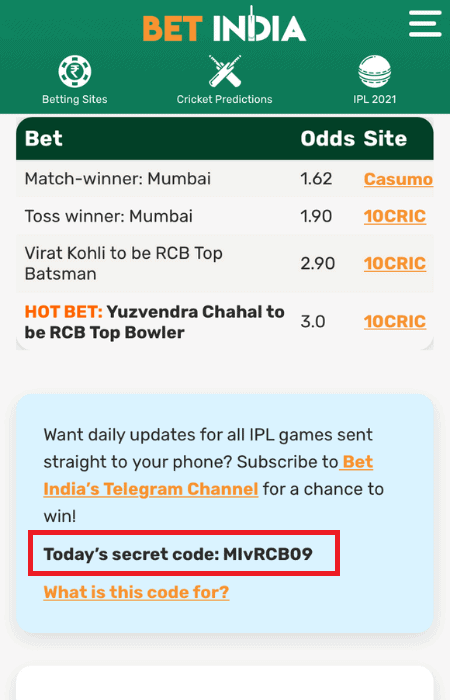 So, for this first IPL game, if my HOT BET on Chahal to be RCB's top bowler wins – then you win too!
How much can you win?
Normally, I will bet Rs 500 on the HOT BET and usually, I will choose something that has odds of 3.0 and greater.
So, let's say:
Rs. 500 x 3 = Rs. 1500 in total
I will keep the initial bet amount
That brings the total profit to Rs. 1000
That means that you can get 30% of these Rs. 1000
Rs. 1000 x 30% = Rs. 300 / 5 = Rs. 60
Anything else to know?
There are a few things that you need to know about this:
You need to bet the money once before you can withdraw it (10CRIC's rules!)
If less than 5 people message after the match, the money will be split evenly between those who did
Maximum time of 1 hour after the game ends to claim this
I will only accept the code AFTER the game ends. Any sent before will not be counted
The winnings only apply on the HOT BET