Rajasthan Royals vs Royal Challengers Bangalore Betting Tips & Predictions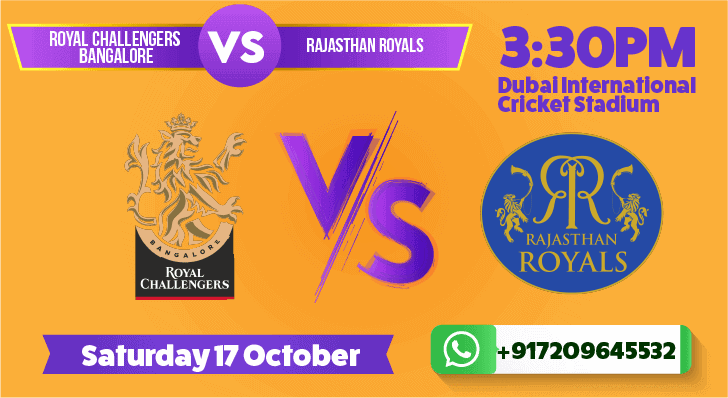 Rajasthan Royals and Royal Challengers Bangalore will lock horns in the Indian Premier League on Saturday, October 17 at 3:30 pm start IST in the Dubai International Cricket Stadium.
Get Rajasthan Royals vs Royal Challengers Bangalore IPL betting tips with the latest match odds, preview, and predictions.
RR VS RCB HEAD TO HEAD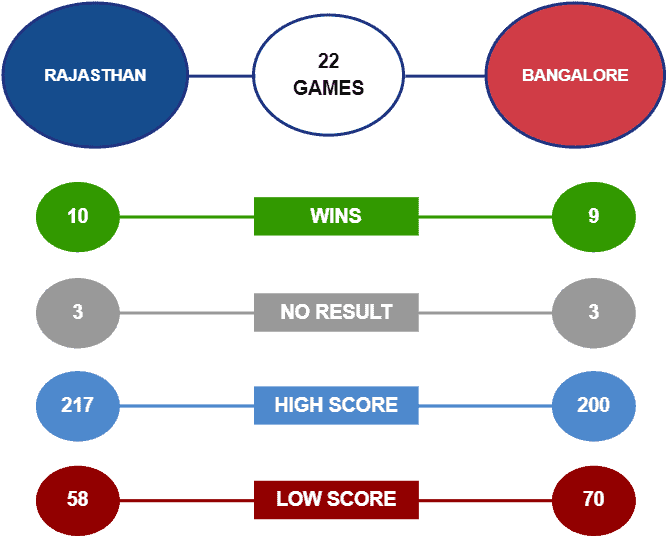 Best betting sites for Rajasthan Royals vs Royal Challengers Bangalore
Deposit ₹10,000 – get ₹10,000 EXTRA
Dozens of cricket & kabaddi markets
Accepts IMPS bank transfers
Betting App available
Our Hot Bet for Rajasthan Royals vs Royal Challengers Bangalore
| Bet | Odds | Site |
| --- | --- | --- |
| Back Virat Kolhi to be the Man of the Match | 7.00 | 10CRIC |
Want a portion of the winnings on our Hot Bet? We're giving away 25% of all the winnings every day!
Subscribe to Bet India's Telegram Channel for a chance to win!
Why is this a good bet?
Kohli may have started off small in the IPL this season but with time, he has stepped up handsomely. He has started to lead the team and play a captain's innings, whenever necessary.
He has scored 40+ runs in four of his last five games in the tournament, including a 90 runs innings against the Chennai Super Kings.
He is in the groove and it is just a matter of time before he delivers another big-scoring match again. At 7.00 odds, this is certainly a bet worth making.
Rajasthan Royals vs Royal Challengers Bangalore betting tips and predictions
To be successful in online betting, you need at least two different accounts. This will allow you to track the odds across multiple bookmakers to see which ones are offering the best value for your money.
| Bet | Odds | Site |
| --- | --- | --- |
| Back RCB to win | 1.71 | 10CRIC |
| Back Ben Stokes to be the top batsman for Rajasthan | 4.33 | Betway |
Royal Challengers Bangalore to win: Why is this a good bet?
This is an easy bet to make – Rajasthan Royals are nowhere close to the kind of form and energy that is currently being enjoyed by the Royal Challengers Bangalore.
The boys in red have had a much better run in the tournament so far and given the kind of momentum they have at the moment, they are clearly the top-favourites here.
It is also crucial to note that it was RCB who won the first leg of this fixture, beating the Rajasthan Royals by 8 wickets.
Chahal took 3 wickets in that game while Kolhi scored a stunning 72 off 53 balls. There is no reason why we may not get to see the same feat once again.
Ben Stokes to be the top batsman for Rajasthan: Why is this a good bet?
Ben Stokes is pretty impressive against Delhi Capitals as an opener, having scored 41 runs.
It was also the first time he was given a chance to bat for the team in the recent few games and needless to mention, the Englishman did not squander that opportunity.
Between him and Samson, Stokes has more experience and exposure – something that is bound to come in handy at this stage of the Indian Premier League.
Should Stokes start once again for the Royals, he may very well prove to be the leading batsman for his side.
Promotions worth grabbing for the IPL!
Where to bet on Rajasthan Royals vs Royal Challengers Bangalore
So there you go, folks. Those were our top bets for this cracker of a fixture – be sure to place your wagers well in advance and make use of this online betting scenario to make some decent profits, responsibly.
Deposit ₹10,000 – get ₹10,000 EXTRA
Dozens of cricket & kabaddi markets
Accepts IMPS bank transfers
Betting App available
Royal Challengers Bangalore
Two steps forward, one step backwards – this is the best way to describe the run of the Royal Challengers Bangalore over the last few matchdays.
Even though the lads are sitting at the 3rd place in the table with 10 points, they still have a long way to go before securing the play-offs berth.
In the last four matches, they have won two and lost two. Interestingly enough, one of those defeats came at the hands of the top-placed Delhi Capitals while the most recent one came against the bottom-placed Kings XI Punjab.
Between these two losses, Virat Kohli-led team did deliver a couple of resounding victories against Chennai Super Kings by 37 runs and Kolkata Knight Riders by 82 runs.
It is worth mentioning that Chirs Morris played a crucial role in those victories, taking 5 wickets in total while conceding just 36 runs. He hasn't shied away from proving his mettle in batting either, as the South-African scored a blazing 25 off 8 balls in the dying minutes of the match against Kings XI Punjab.
With the addition of Morris to the side, the team is certainly a lot more balanced, especially in the bowling department. Chahal and Sundar have got the necessary support needed. Plus, seeing him in a good form may also prompt Kohli to have him support the likes of Zampa or Steyn in the next game.
For this game, RCB are certainly the favourites but it is yet to be seen how things will pan out on the pitch. After all, they have momentum, confidence, and form on their side.
While they may be playing at a venue where they have been largely successful this season, their unpredictability at times makes it an open race to some extent.
Possible XI: Kohli, de Villiers, Padikkal, Dube, Finch, Morris, Udana, Sundar, Yadav, Saini, Chahal.
Rajasthan Royals
Rajasthan Royals will need a miracle to escape the situation they find themselves in at the moment. 8 games in, they have won just 3 owing to which, they find themselves sitting at the second-last position in the table.
They ended up losing 4 games back to back before finally snapping out of their funk by moving past Sunrisers Hyderabad with 5 wickets.
However, just when the RR boys saw a glimmer of hope, it went downhill once again when they lost to Delhi Capitals by 13 runs. It was a close game by all means where Stokes, Samson, and Uthappa did their part in chasing the title but unfortunately, it was not enough.
With only 6 games left to be played in the IPL for them, it is now a matter of do-or-die. Any more losses will only make it more difficult for them to reach the play-offs.
Now, it isn't to say that this feat is entirely impossible. The Rajasthan Royals do have a team that is bustling with big names like Steve Smith, David Miller, Stokes, Uthappa, Samson, and many more. Each of them has proven themselves, time and again, in this format of the game.
For them, it is just a matter of picking themselves up and finding their rhythm. Of course, it doesn't help that they lost the first leg of this fixture to Bangalore by 8 wickets, but that is all the more reason for them to win this one – the sweet taste of revenge and a chance to stay in the competition.
Possible XI: Butler, Smith, Samson, Uthappa, Parag, Tewatia, Miller, Gopal, Archer, Unadkat, Rajpoot
Deposit ₹10,000 – get ₹10,000 EXTRA
Dozens of cricket & kabaddi markets
Accepts IMPS bank transfers
Betting App available
100% Welcome Bonus up to ₹2,500
Focused on cricket for the Indian market
Fast withdrawals with rupees
Live streaming of matches