Sydney Thunder
The Sydney Thunder can be considered the least successful side in Big Bash history ion terms of getting out of the Group Stages.
In nine seasons of BBL, they only made the Playoffs on two occasions and on four separate occasions, managed to finish the Group Stages in last place, to go with a seventh and two sixth-place finishes.
But they somehow did what neither the Melbourne Stars nor the Hobart Hurricanes have managed to do: win a Big Bash title.
But that can be considered a one-off because year after year they struggle despite changes of personnel and even the stadium they play at.
The top Big Bash League betting sites say that things will not get any easier this year.
Where to bet on Sydney Thunder

PERFECT for Casual Players!
Easy to sign up and play
Fast Paytm Withdrawals
Exciting Bollywood theme

The BEST Betting Site in India!
Cricket & kabaddi betting
Fast Paytm Withdrawals
Local Indian Brand
The BEST ODDS in India!
Amazing odds on cricket
5 hour Paytm withdrawals
Focused on Indian players
Sydney Thunder Best Odds
10CRIC consider that this could be another season of disappointment if you're a Sydney Thunder fan. They give the best odds for Sydney Thunder to win at 10.0.
Find out more about this Indian betting site in our 10CRIC review. This is the biggest for any BBL side, meaning that they are, of course, the rank outsiders.
But they had a better season than expected last time out and may just surprise a few people.

The BEST Betting Site in India!
Cricket & kabaddi betting
Fast Paytm Withdrawals
Local Indian Brand
This year's Sydney Thunder betting predictions
Here, you'll find today's cricket betting tips & predictions for every Sydney Thunder match.
Each game the Thunder play will have an in-depth analysis of the 2 sides as well as betting tips and winner predictions
Find all the latest predictions below!
Latest Sydney Thunder match predictions
Sydney Thunder Performance 2019-20
Last year was an incredibly strange season for the Thunder. They looked dead and buried for much of the tournament but were given a lifeline when after winning their last must-win game, other results went their way.
The Brisbane Heat collapsed against the rock-bottom Renegades and the Thunder gatecrashed the playoffs.
There they beat Hobart Hurricanes in The Eliminator and then secured a superb win over the ever-resilient Adelaide Strikers, both victories largely down to excellent fifties from Alex Hales.
In the end, the Melbourne Stars proved a little too much for them and their run came to an end, but it was good while it lasted.
A reminder it was just their second-ever appearance in the Playoffs.
There were good contributions from quite a few players but Alex Hales and Daniel Sams in particular, were immense.
Hales hit six fifties on his way to 576 runs and Sams was the tournament's top-wicket taker with 30.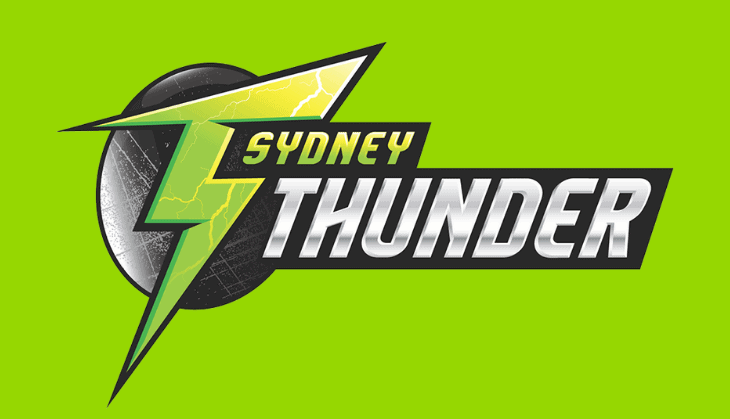 Sydney Thunder facts
Have made just two Playoffs in nine seasons.
Lost all of their first seven games against cross-city rivals the Sixers.
In 2015-16 they were the most watched Australian sports team with an average TV audience of 1.2 million.
In November 2019 spinner Chris Green signed the longest-contract in BBL history when penning a new six-year deal. But he was banned for 90 days from bowling because of a suspect action, effectively missing most of the 2019-20 edition.
Changed grounds from the ANZ Stadium to the Sydney Showground Stadium in 2015.
Are coached by former New Zealand pace bowler Shane Bond.
Sydney Thunder 2020-21 players
Callum Ferguson (c), Sam Billings, Jonathan Cook, Ben Cutting, Oliver Davies, Brendan Doggett, Matthew Gilkes, Chris Green, Alex Hales, Usman Khawaja, Nathan McAndrew, Adam Milne, Arjun Nair, Alex Ross, Daniel Sams, Jason Sangha, Tanveer Sangha, Chris Tremain.
Captain: Callum Ferguson
Ferguson recently retired from first-class cricket meaning that we're likely to see him just playing T20 cricket from now on, if at all. He'll captain his beloved Thunder this year once again but we'll have to wait and see if we see any more of him on the cricket field beyond this season.
Now 36, he made 30 ODI appearances for Australia and was one of those players who was too good for first-class cricket but maybe not quite good enough to forge a strong career in international cricket.
But he knows this side inside out and will have a big role to play at number three after a decent season last year, where he struck three fifties.
Key Player: Daniel Sams
One of the main reasons for their relative success last year was the form of pace bowler Daniel Sams.
A somewhat average player before last season, he somehow found his mojo during the whole campaign and put in a wonderful performance, taking 30 wickets in 17 games to be the Big Bash's top bowler by some margin.
His performances caught the eye of the Delhi Capitals in the IPL and he secured a big payday on the back of it but had a poor IPL season, not taking any wickets in the three games he played.
But it's back on hard, bouncy Australian wickets that he's at his best and should take plenty more wickets once again.
Game Changer: Alex Hales
His England days are probably numbered after twice failing tests for use of recreational drugs and the emergence of so many exciting young English top-order batsmen.
But this is a man who at 31 still has plenty to give to T20 cricket and who plays in just about every last T20 franchise tournament, bar the IPL.
He had an outstanding season last time out in the Bash, his 576 runs trumped only by Marcus Stoinis' 705. Even better was his strike rate of 146, and it's those sort of fast starts that the Thunder will be craving.
Sydney Thunder BBL 2020-21 analysis
They've been dismissed as the weakest side in the tournament by the bookmakers but they might not be that bad.
With two high-class English batsmen in the Top 4 alongside two former Aussie internationals and decent balance elsewhere, they look to have most bases covered. Perhaps most important of all was the recruitment of Kiwi paceman Adam Milne, adding some extra spice to a bowling attack that looks the strongest it's been in years.
It could be touch-and-go once again as to whether they can make it out of the Group Stages.
Strengths
They have a really good Top 4 where Usman Khawaja and Alex Hales should open, Callum Ferguson should anchor the innings at three and Sam Billings is likely to play at four.
They're all somewhat different batsmen but all are extremely capable of winning a game by themselves.
They're just about the only side in the BBL unlikely to lose a single player to Australia duty so can plan for the whole season rather than making constant changes.
Weaknesses
Chris Green had that problem with his bowling action last year while Kiwi paceman Adam Milne is notoriously injury-prone.
If they lost one or both, they'd struggle to fill those voids.
And though we really like Green, he's not quite the match-turning spinner that other BBL teams have.