The Profile of a Big Bash Top Batsman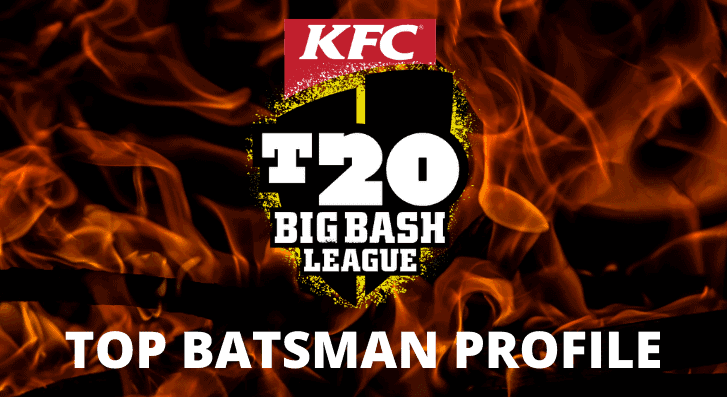 First things first, let's just outline what this piece is about.
What we're going to do here is look at what the profile of an Outright Big Bash Top Batsman looks like.
After reading this, you will be able to pick a top batsman for the Big Bash League betting and earn some money!
Deposit ₹10,000 – get ₹10,000 EXTRA
Dozens of cricket & kabaddi markets
Accepts Paytm & G-Pay
Betting App available
100% Welcome Bonus up to ₹2,500
Focused on cricket for the Indian market
Fast withdrawals with rupees
Live streaming of matches
What does a Big Bash League top batsman look like?
We're going to outline the characteristics they share such as their nationality, the position they bat in and what sort of strike rate they boast.
The profile is based on looking at the winners across nine seasons of Big Bash cricket.
Once we've gone through it all we're going to have formed a picture in our minds of what a Big Bash top batsman looks like.
And then, in a couple of weeks, we'll look at which players in the top batsman market fit that profile and we will go on to suggest some tips, also taking into account their odds.
All clear?
Past top batsman winners in the BBL
Here are the nine winners so far, complete with some key data.
Don't pay too much attention to the actual number of runs scored because the number of BBL games per season has increased drastically.
Back in the early days, teams would play nine or ten games if they made the final, whereas these days they play 17.
But let's start by looking at the things that do matter.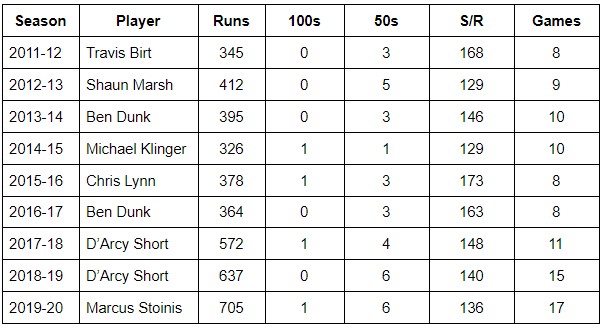 BBL top batsmen are Aussies only!
It may be hard to believe but it's true: every single winner of the BBL Top Batsman award has been Australian.
And this is despite some true overseas greats like Kevin Pietersen, Chris Gayle and Brendon McCullum featuring in the Big Bash in the past.
Maybe that's not that surprising.
After all, not only did teams generally only have one overseas batsman in their ranks because of the 'two overseas players' rule but Australian batsmen do after all know their wickets and grounds better.
Now, it is true that with the number of overseas players per team increased from two to three this season, there are some teams fielding two classy overseas batsmen in their Top 3, rather than just one as was the case before.
Examples of that are Nicholas Pooran and Jonny Bairstow at the Melbourne Stars and Colin Munro and Jason Roy at the Perth Scorchers.
So yes, there are more quality overseas batsmen than ever but that trend of only Australians winning it may well continue.
Only 0peners become top batsmen in BBL
We mentioned this many a time ahead of the IPL this season: only openers have ever been top batsman in the IPL, and the same applies to the Big Bash.
Every single last one of those players on the list above was an opener and we'll repeat the importance of that one last time: they're the only ones guaranteed to bat, they face more balls than anyone else, they get to make use of the Powerplay Overs and could be the only ones in the team at all getting runs, especially when chasing low totals.
Of course, there's been a slight rule change introduced this year, meaning that it's now four overs of Powerplay at the start, plus two more later on in the match. But that shouldn't make a difference to the 'openers only' rule.
Deposit ₹10,000 – get ₹10,000 EXTRA
Dozens of cricket & kabaddi markets
Accepts Paytm & G-Pay
Betting App available
100% Welcome Bonus up to ₹2,500
Focused on cricket for the Indian market
Fast withdrawals with rupees
Live streaming of matches
A top batsman needs to play every game
It doesn't matter how good you are; you can't score runs if you're not playing!
So it's a given that we only go with batsmen who always play when available but we also have to consider who is available and when.
For example, an excellent batsman like Travis Head is unavailable for almost the whole series because he's playing Tets.
The same could be said of Matthew Wade, of the Hurricanes.
Similarly, English players with BBL contracts like Jonny Bairstow, Sam Billings, Liam Livingstone, Jason Roy and Dawid Malan are all playing out in South Africa before the Big Bash starts.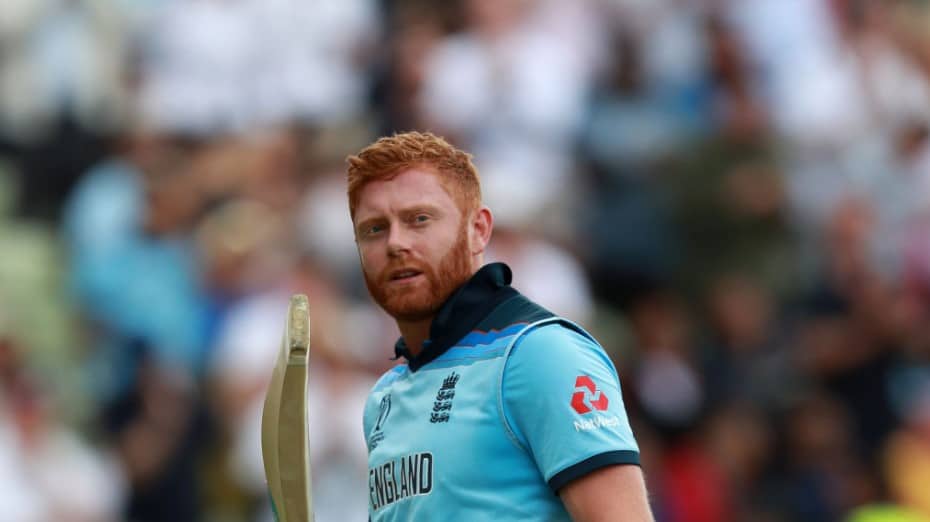 The Series ends just before the BBL begins but they'll have to self-quarantine for 14 days before being able to play.
So all of them will miss an average of three games.
That could make all the difference.
The team needs to go deep
Following on from the theme that the more matches you play, the better, it's also important to play for a successful side.
Because you get to play more matches.
Five of the nine winners played for the side who made the final that year.
Or in other words: five of the nine played the maximum number of games they could for the season.
As a quirky little aside, four of those five played for the side who actually lost the final, including last year's top batsman Marcus Stoinis.
But that really is just a coincidence!
But it's important that your man's team makes the Playoffs.
Making the Playoffs means a minimum of one extra game and up to four extra games if you happen to finish 4th/5th and end up going all the way to the final.
In summary: focus on players from teams likely to make the Playoffs.
Strike rate is essential
The lowest strike rate of a former BBL top batsman winner was 129 by Michael Klinger and Shaun Marsh and the highest was 173 by Chris Lynn, a player who was one of our choices for top BBL players of all time.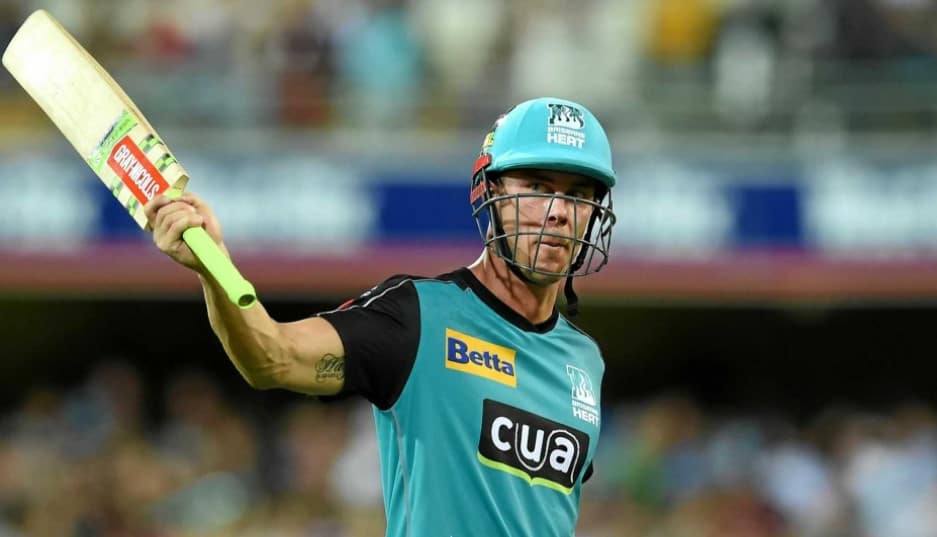 The maximum strike rate isn't that important: the higher it is, the better. But what the data does show is that it can't be below 129 or that at least, it never has been below 129  among past winners.
So when looking at possible candidates, we'll have to dismiss players whose career strike rate in T20s is below 129.
The Red Herring
You'll notice that four of the nine winners, including D' Arcy Short who won it twice, were Hurricanes players. A possible explanation for that is that their home ground is traditionally an excellent wicket, so easier to bat on.
Whereas an average score at the Sydney Sixers' ground is 155, at Hobart, it's maybe 180 or 190. So you get more batsmen getting to bigger scores more often.
However, with the Big Bash having to scrap the traditional home and away fixtures because of the Coronavirus and certain grounds hosting all the games between them, it may be less of an advantage this year to be a Hurricanes player.
Come back over the next couple of weeks and we'll tell you exactly which players meet the criteria to be Big Bash Top Batsman for 2020-21.