Dafabet: Predict the IPL Results & Win up to ₹20,00,000!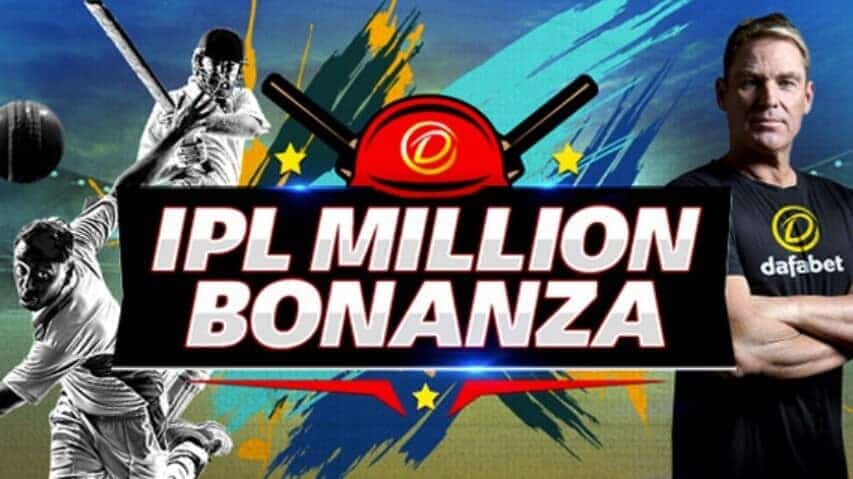 Would you like to grab a cool Rs.20,00,000?
You would? That's what we thought.
In anticipation of the IPL, betting site Dafabet is giving away one heck of a prize.
Check out our Dafabet review for more on this India betting site.
This promotion is running until 22nd September.
The IPL Million Bonanza!
I have to say, this is an amazing Dafabet promotion. They have gone all out for this one!
So, here's how it works:
Log into your Dafabet account. Don't have one? Sign up here.
Find the promotions page and click on the IPL Million Bonanza.
Drag and drop the team names into position on the table
Once done, submit your Dafabet username and email address
It's really quite simple!
There a several tiers of rewards in this promotion.
If you want to win the coveted Rs.20,00,000 jackpot, you will need to predict the semi-finals, qualifier and final too.
Here's how the different rewards look:
TOURNAMENT CHALLENGE

JACKPOT!

All correct table rankings + semi-finals, qualifier, and final predictions

₹20,00,000

CONSOLATION

Correct table predictions only

₹200,000

CONSOLATION

Correct semi-finals, qualifier, and final predictions only

₹100,000
Who will win and who will lose the IPL?
That is indeed the question!
Here at Bet India, we are always on the lookout for ways to give you the best IPL betting tips that we can.
Below, you'll find some interesting predictions that we have already made for the winners and losers.
Check them out before you make any decision in this promotion.
Other IPL promotions to claim
Anything else to know about?
There are a couple of terms and conditions that you should know about before you make your predictions.
Here are some of the main ones to be aware of:
If more than one person is eligible for the prizes, they will be split evenly to all winners.
If you enter your predictions more than once, only the last entry will count.
All winnings will be in the form of free bets.
You must have an accumulated deposit of Rs. 3,000 plus an accumulated stake of Rs.5,000 for the entry to be confirmed.
The Jackpot Bonus will be issued on 16th Novemeber.
The jackpot will have no rollover requirement while all the consolation prizes are subject to 1x wagering requirement.
That's the main terms. Make sure you read through all of them carefully on Dafabet's site before you continue.
Get out there and make your predictions!
So, there you have it, a simple way to win Rs.20,00,000 with Dafabet's IPL Million Bonanza promotion.
Make sure you check it out in the next couple of days before it's too late!
We will also be providing a lot of cricket betting tips for the upcoming IPL too, so make sure to check them out